Slow cooker Texas hot chili recipe. Ground beef and sausages, seasoned with peppers, spices, onions, slow-cooked, and served with cheddar cheese and crispy fried tortillas.
What is the Secret to Making a Delicious Texas Hot Chili Recipe?
While everyone has their own recipe for Texas Hot Chili, making it is not as easy as you might think. There are some secrets to making a delicious Texas Hot Chili Recipe.
The first is that the meat for chili needs to be tenderized. This can be done by cooking it in a skillet or pressure cooker before adding the other ingredients.
The second secret is that the chili should not be too spicy, as this will ruin the balance of flavors and make it hard to eat.
The third secret is that you should use a dry spice mix rather than fresh herbs and spices, which will allow you to make a large batch of chili and store it for later use.
The fourth secret is that you should use canned tomatoes rather than fresh ones, which will also help with storage issues.
What Makes This Recipe So Special and Why Should You Give it a Try?
This recipe is a special one. It doesn't have any specific ingredients, but it is made by cooking the right amount of spices in the right order and at the right temperature. That's what makes this recipe so special and why you should give it a try!
This Texan chili recipe has been around for decades and many people have tried to make their own version of this dish over time. This is one of those recipes that has been passed down from generation to generation and some people still say that it tastes better than any other chili they've ever had.
The Texans take pride in their chili because they believe it is the most delicious kind there is, so why not give this amazing dish a try? It will change your life!
Slow Cooker Hot Texas Chili Recipe
You may also like:
Easy Air Fryer Cauliflower Bites Recipe
Slow Cooker Chickpea and Pasta Soup Recipe
Slow Cooker Mushroom Chickpea Soup
Instant Pot Split Pea Soup with Turkey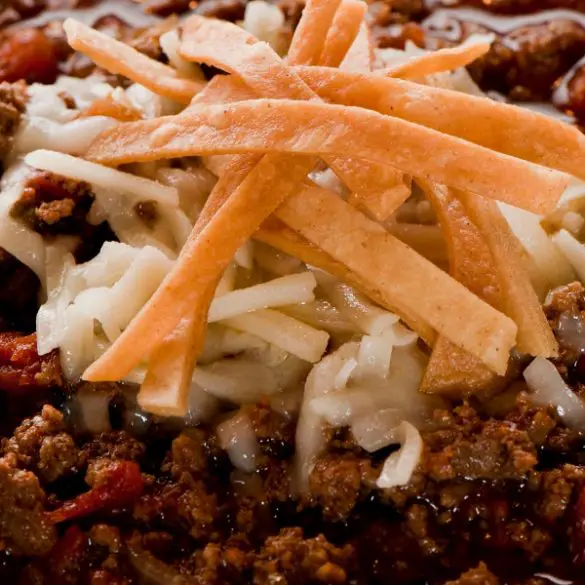 Ingredients
12 oz (360 g) hot Italian-style turkey sausage, casing removed

1 pounds (600 g) coarsely ground lean beef

1 can (14 oz (435 ml)) undrained diced tomatoes

1 cups (410 ml) fat-free beef broth

15 oz (450 ml) can tomato sauce

1 can 4 oz (120 ml) chopped green chilies, undrained

1 large yellow onion, peeled and chopped

1 jalapeno chili, chopped

2 tablespoons hot chili powder

1/2 teaspoon ground cumin

1/2 teaspoon ground coriander

1 tablespoon low-sodium Worcestershire sauce

salt and cayenne pepper, to taste

hot pepper sauce, to taste

shredded Cheddar cheese, to garnish

fried tortillas, to garnish
Instructions
In a lightly greased nonstick skillet, brown sausage, and ground beef over medium-high heat, for about 10 minutes, crumbling with a fork.
Remove browned meat from the skillet and transfer it to a 6-quart (6 L) slow cooker.
Add the remaining ingredients, except salt, cayenne pepper, and hot sauce. Stir well.
Cover the pot and cook on a low-heat setting for 6-8 hours.
Turn off the cooker and open the lid. Season the chili with salt, cayenne pepper, and hot pepper sauce.
Ladle it into large bowls. garnish with shredded cheese and fried tortillas. Enjoy!