Instant pot split pea soup with turkey. Split pea soup with turkey is the best kind of comfort food you can make. It's a hearty meal that can be prepared in the pressure cooker in under an hour.
Why You Should Try The Most Popular Instapot Split Pea Soup Recipe
This split pea soup with turkey is a delicious and healthy meal that is quick and easy to make. It has a creamy texture, thanks to the addition of milk, which makes it perfect for those who are lactose intolerant.
Split peas are a type of dried bean that cooks quickly and easily in just 30 minutes. They can be used in a variety of dishes, such as soups and stews.
How to Make Vegan Instant Pot Split Peas from Scratch
The vegan instant pot split peas recipe is a simple and easy-to-make dish. It's perfect for a weeknight dinner or as a side with your favorite meals.
In this vegan instant pot split peas recipe, we will be using canned green beans instead of fresh ones. If you have the time, you can use fresh green beans to make this dish even more flavorful.
You will need: – 2 cans of green beans, rinsed and drained (14 oz each) – 1/2 cup of dried split peas (soaked overnight in water) – 2 cups of water – 1/2 teaspoon of turmeric- 2 tablespoons of olive oil- 1 onion, chopped Instructions: – Add the green beans, split peas, water and turmeric to a pressure cooker. Cook on high pressure for 10 minutes. – Once the cooking time is up, allow pressure to release naturally for 10 minutes before opening the lid and stir in the olive oil.
Instant Pot Split Pea Soup with Turkey
You may also like:
Slow Cooker Mushroom Chickpea Soup
Slow Cooker Albondigas Soup Recipe
Instant Pot Easy Potato Soup For a Crowd
Instant Pot Indian Chana Masala Recipe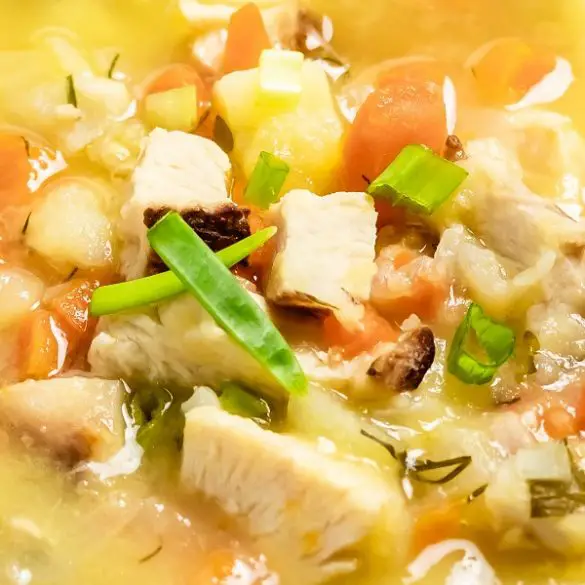 Ingredients
1 pound (480 g) cooked turkey meat

3 tablespoons olive oil

2 medium yellow onions, peeled and finely chopped

2 stalks of celery, finely chopped

2 medium carrots, peeled and chunked

8 cups (2 L) gluten-free chicken broth

1 pound (480 g) of dried yellow peas

4 cloves garlic, peeled and minced

1 bay leaf
Instructions
Heat 2 tablespoons of olive oil in an electric instant pot turned to saute mode.
Add onions, celery, and carrots. Saute, stirring occasionally, for 5 minutes.
Add cooked turkey meat, chicken broth, yellow peas, garlic, and bay leaf.
Close the pot and lock the lid. Set the machine to cook at high pressure. set the timer to cook for 15 minutes.
Using the Natural Release method, bring pressure to normal. Carefully unlock and open the lid.
Season the soup with salt and black pepper. Stir well before serving.
Ladle it into soup bowls. Serve hot.