Slow cooker albondigas soup recipe. This albondigas soup is perfect for your next cozy night in. It's hearty, healthy, and the perfect dish to make together with the family.
What is Albondigas Soup, Its History, and How is it Made?
Albondigas soup, also known as meatball soup, is a traditional Mexican dish that is typically made with pork or beef. It is seasoned with garlic and onion, and garnished with lime juice and chopped cilantro.
Albondigas soup has a long history in Mexico. The dish was first introduced by the Spaniards during the 16th century. It was originally called "albóndigas" which means "meatballs." The name of the dish changed to "albondigas" when it became popularized in Mexico City. The main ingredients for this soup are ground meat (pork or beef), onions, garlic, salt, black pepper, and beef broth (beef stock).
What is Slow Cooker Albondigas Soup and Why Would You Want to Try it?
This is a Mexican soup recipe that has a lot of flavor and is easy to make. The best part about this soup is that it cooks in the slow cooker, so you don't have to worry about stirring it or checking on it. It's perfect for those days when you come home late from work and don't have time to cook anything.
In Mexico, albondigas are meatballs made with beef, pork, lamb, or chicken. They are typically served as an appetizer with a tomato sauce on top of white rice. This recipe takes the idea of albondigas but instead makes them into a soup that can be cooked in the slow cooker for hours without any stirring required.
Slow Cooker Albondigas Soup Recipe
You may also like:
Instant Pot Easy Potato Soup For a Crowd
Instant Pot Indian Chana Masala Recipe
Air Fryer Cashew-Stuffed Mushrooms Recipe
Slow Cooker French Vegetable Soup Recipe
Slow Cooker Mexican Chili Recipe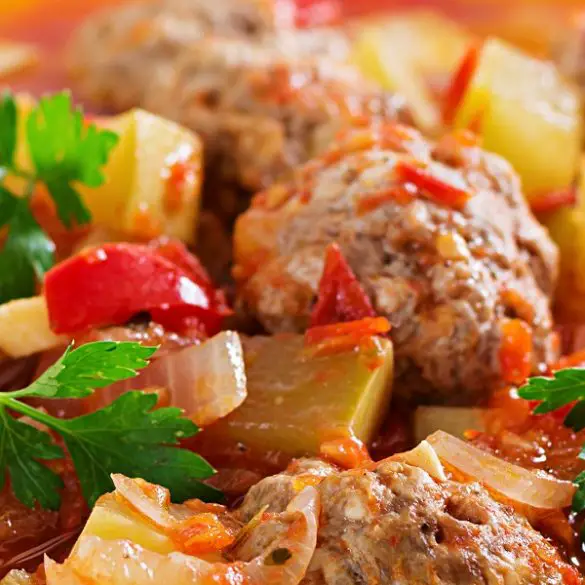 Ingredients
4 cups (1 L) beef broth

5 carrots, peeled and sliced

3 celery sticks, sliced

4 large potatoes, peeled and diced

1 medium yellow onion, peeled and diced

1 small bag of frozen meatballs

2 medium tomatoes, sliced

chopped fresh cilantro

salt and freshly ground black pepper, to taste
Instructions
In a 6-quart (6 L) slow cooker, combine all ingredients, except cilantro and seasoning. Stir well.
Cover the pot and cook on a high-heat setting for 4 hours, or until meatballs are heated through.
Turn off the slow cooker and open the lid. Season the soup with salt and black pepper. Mix well.
Ladle into soup bowls. Sprinkle with chopped fresh cilantro.
Serve hot.