Air fryer cashew-stuffed mushrooms recipe. The avocado and cashew-stuffed mushrooms are deep-fried in the air-fryer because they won't shrink or dry out, and they'll be as tender and creamy as if they were steamed.
Air fryer cashew-stuffed mushrooms are healthy and delicious
Air fryers are the latest trend in cooking. They use convection to heat up the air, which is then circulated around the food. This means that food cooks faster and retains more of its natural flavor.
This dish is gluten-free, low-carb, and can be prepared in a matter of minutes. It's also a great way to make healthy eating more fun for kids!
The Benefits of Eating Stuffed Mushrooms
Air frying is a healthier way to fry food. Air frying food has less fat and oil than deep frying.
Air fryers are also much more efficient than other cooking methods, like baking or boiling. Air fryers use less energy to cook the same amount of food in less time. This is because air fryers work by circulating hot air around the food instead of submerging it in oil or water, which means that the outside of your food won't get soggy or greasy.
Air fried cashew stuffed mushrooms are easy to make and can be made with ingredients you already have at home – making them a great option for an easy weeknight meal!
Air Fryer Cashew-Stuffed Mushrooms Recipe
You may also like:
Slow Cooker French Vegetable Soup Recipe
Slow Cooker Mexican Chili Recipe
Instant Pot Stuffed Pepper Soup Recipe
Slow Cooker Ham and Cannellini Bean Soup
Instant Pot Sweet Potato Curry Recipe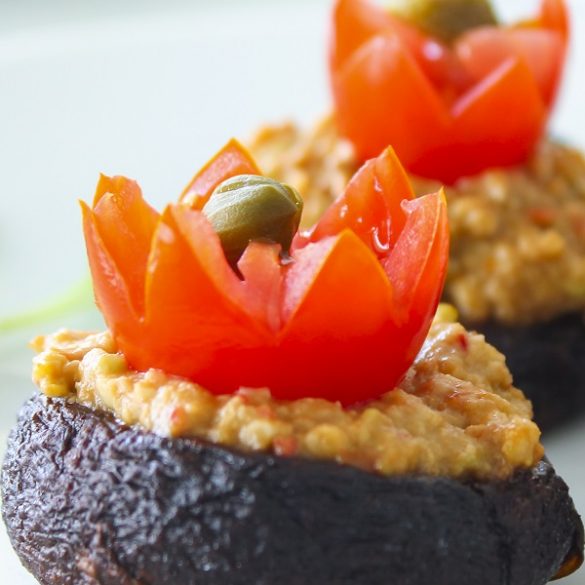 Ingredients
2 ripe avocados, peeled and pitted

1/2 cup cashew, soaked overnight, and drained

1 clove garlic, peeled and roughly chopped

6 tablespoons soy sauce

1 tablespoon freshly squeezed lemon juice

1 pound (480 g) mushrooms, stems removed

cherry tomatoes, cut like a flower, for garnish

capers, for garnish
Instructions
Ina food processor, combine avocados, soaked cashews, chopped garlic, soy sauce, and lemon juice. process until smooth.
Sprinkle with salt, if desired.
Turn the mushrooms cap-side down. Spread the cashew mixture on the underside of each cap.
Transfer stuffed mushrooms to the air fryer basket.
Fry at 400º F (200º C) for 15 minutes.
Remove fried mushrooms from the fryer and transfer them to a serving plate. garnish with cherry tomatoes and capers.
Enjoy!