Instant pot sweet potato curry recipe. You won't believe what you can do in the Instant Pot! This simple and delicious stew recipe is easy to make with the perfect blend of vegetables, protein, and spices. It's one of those recipes that will leave you feeling full and satisfied after a long day.
What are some of the benefits of using an Instant Pot?
Instant Pot is a multi-cooker that allows you to cook food in less time. It uses less electricity and water than traditional cooking methods. It also has a lot of health benefits for your body and the environment.
Instant Pot is perfect for busy people who want to eat healthy food without spending hours in the kitchen. The Instant Pot has changed the way people cook at home, and it continues to grow in popularity every day.
What is curry and why is it perfect for this recipe?
Curry is a type of dish that is traditionally served with rice and some kind of meat. The word curry itself comes from the Tamil word kari meaning sauce. There are many types of curries with varying degrees of spiciness, such as vindaloo, masala, and korma.
Curry can be a great addition to this recipe because it adds flavor and spice to the dish. It also helps to make this dish more filling by adding carbs from the rice.
Curry has been used in many different cuisines around the world for centuries due to its savory taste that goes well with many different flavors like sweet spices or savory spices like cumin.
What are some of the dishes that you can cook in an Instant Pot?
An Instant Pot is a multi-cooker that can be used to cook a wide variety of dishes. It has been on the market since 2009 and is considered as one of the most popular pressure cookers in the world.
Some of the dishes that you can cook in an Instant Pot are:
– Soups
– Stews
– Rice
– Desserts
– Salads
Instant Pot Sweet Potato Curry Recipe
You may also like:
Instant Pot Stuffed Tomatoes Recipe
Slow Cooker Beef and Barley Soup Recipe
Instant Pot Creamy Tuscan Mushroom Soup
Slow Cooker Creamy Carrot Soup Recipe
Air Fryer Keto Cheese Quiche Recipe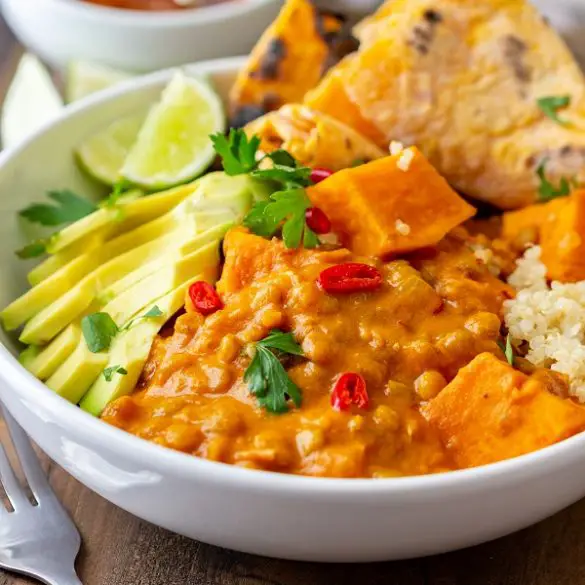 Ingredients
1tablespoon extra virgin olive oil

1 yellow onion, peeled and chopped

1 tablespoon curry powder

1 teaspoon ground ginger

3 cups (750 ml) water

2 sweet potatoes, peeled and cut into chunks

1 cup red lentils

1½ teaspoons fine sea salt

dash of freshly ground black pepper

1/2 cup (125 ml) coconut milk

sliced red pepper, for garnish (optional)
Instructions
Heat the olive oil in an electric instant pot turned to saute mode.
Add the onion, curry powder, and ginger. Cook, stirring, until fragrant, for about 1 minute.
Pour in water. Using a wooden spatula, scrape the bottom of the cooker, making sure nothing has stuck.
Stir in chunked potatoes, lentils, salt, and black pepper. Mix well.
Close the pot and lock the lid. Set the machine to cook at high pressure. Set the timer to cook for 1 minute.
Using the natural Release method, bring pressure to normal. Carefully unlock and open the lid.
Pour in the coconut milk. Stir well. Garnish with sliced red pepper (optional).
Serve hot.