Air fryer keto cheese quiche recipe. This cheese quiche recipe is made with eggs and a whole lot of cheese. It also has a crispy crust from air-frying. This recipe makes enough for four people. Low carb and gluten-free keto-friendly quiche recipe.
Now, it's easy to get that crunchy and flaky crust with a moist and gooey inside.
This Air fryer keto cheese quiche is a perfect example of how air frying changes the texture of the food. The outside is crunchy while the inside is oh-so-gooey. The eggs and cheese give it an extra oomph, making this dish as decadent as ever.
Air fryers are more popular than ever thanks to their lower cost, smaller size, and energy efficiency. The air fryer keto cheese quiche is a perfect low carb, keto-friendly, and gluten-free keto recipe for anyone who loves a low calorie, high protein breakfast option. We are all looking for quick and easy recipes that are healthy as well as tasty. With an air fryer, you can get this without having to compromise on taste or results! The great thing about air fryers is that they are a fast option for cooking. This keto cheese quiche recipe takes less than 1 hour to make, and it has zero carbs and only 110 calories.
What Keto ingredients can be used in a quiche?
There are many keto ingredients that can be used in a quiche. Here are some of the best ones:
– Bacon
– Eggs
– Heavy whipping cream
– Parmesan cheese
– Cheddar cheese
What are the health benefits of the air fryer?
An air fryer is a kitchen appliance that allows you to bake, roast, and fry foods without the use of oil or butter. It uses the hot air circulating at high speeds to create the same crispy texture as deep frying.
Air fryers have been in existence for a while now but they are becoming more popular with time. They are a healthy alternative to deep-frying, which has been shown to be bad for your health. Air fryers can be used for many different types of food such as chicken, chips, fish, vegetables, and more.
Air Fryer Keto Cheese Quiche Recipe
You may also like:
Instant Pot Chickpea and Lemon Soup
Instant Pot Cauliflower and Almond Soup
Slow Cooker Italian Bean Soup Recipe
Air Fryer Spinach and Mushroom Frittata
Slow Cooker Spiced Indian Chickpea Soup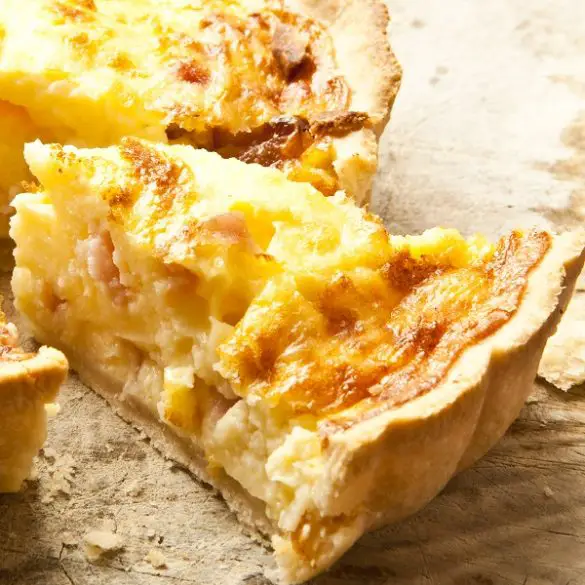 Ingredients
To make a crust:

1¼ cups blanched almond flour

1 large egg, beaten

1¼ cups grated Parmesan cheese

1/4 teaspoon sea salt

For the filling:

4 oz (120 g) cream cheese

1 cup shredded Swiss cheese

4 large eggs, beaten

1/2 cup (125 ml) chicken broth

1/8 teaspoon cayenne pepper

3/4 teaspoon fine sea salt

1 tablespoon unsalted butter, melted
Instructions
Sprinkle a pie pan basket with nonstick cooking spray.
In a large mixing bowl, combine almond flour, beaten egg, grated Parmesan, and salt. Stir until firm dough forms.
Arrange the dough between two grease parchment papers. Roll the dough into a 1/16-inch thick circle.
Transfer the dough into greased pie pan and press to coat the bottom, then place it in the air fryer.
Bake at 325º F (160º C) for 12 minutes, or until the edges of the crust are lightly browned.
Meanwhile, in a large bowl, combine all filling ingredients. Mix well.
Pour the filling over the baked crust, then cover the edges with aluminum foil.
Bake at 325º F (160º C) for a further 15 minutes, then reduce the heat to 300º F (150ºC) and bake for another 30 minutes, or until a toothpick is inserted in the center of the quiche comes out clean.
Remove the pie pan from the fryer and allow it to cool for 10 minutes before serving.