Instant pot cauliflower and almond soup. This soup is warm, comforting, and flavorful. It's a healthy option for those looking to cut back on their meat intake. You will love this soup with its creamy texture while still staying light.
Cauliflower is rich in Vitamin C and Dietary Fiber, which can help lower cholesterol and control blood sugar levels respectively.
Almonds are a good source of monounsaturated fatty acids as well as vitamin E, which is an antioxidant that helps to keep the immune system strong. Almonds also contain protein, fiber, vitamin E and magnesium which is essential for bone health. This recipe has it all!
What is the difference between an instant pot and a crock pot?
An instant pot is a device that is used for cooking food in a shorter time than a crock pot. It has features like an electric pressure cooker, slow cooker, rice cooker and more.
A crock pot on the other hand is a slow-cooking appliance that uses heat from an external source to cook food. It is usually made of stoneware or porcelain.
Would you recommend a vegan substitute for heavy cream?
Some people are vegan and do not eat any animal products. They find it difficult to cook with heavy cream because they cannot use the traditional substitute for it – milk.
There are some vegan substitutes that you can use in place of heavy cream. One of them is coconut butter, which is made from coconut oil and has a similar consistency to heavy cream. Another option is almond milk, which is also a good substitute for heavy cream.
Instant Pot Cauliflower and Almond Soup
You may also like:
Slow Cooker Italian Bean Soup Recipe
Air Fryer Spinach and Mushroom Frittata
Slow Cooker Spiced Indian Chickpea Soup
Instant Pot Vegetable Barley Soup Recipe
Slow Cooker Lemon Chicken Orzo Soup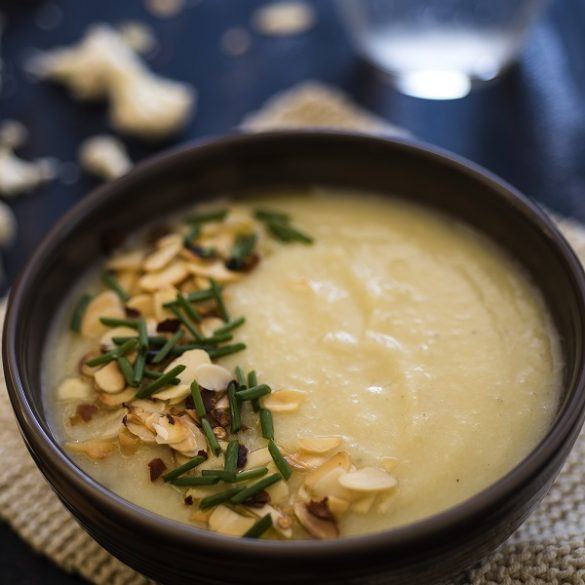 Ingredients
3 tablespoons unsalted butter

1 large yellow onion, peeled and chopped

1/2 cup sliced almonds, divided

1 tablespoon minced garlic

1 teaspoon ground turmeric

1/2 teaspoon ground fenugreek

1/2 teaspoon ground ginger

6 cups (1.5 L) vegetable broth

one cauliflower head, cored, trimmed, and broken into florets

1/2 cup (125 ml) heavy cream
Instructions
Melt the butter in a 6-quart (6 L) electric instant pot turned to browning function.
Add onions and half of the almonds. Cook, stirring often, until the onion softens, for about 4 minutes.
Stir in minced garlic, ground turmeric, fenugreek, and ginger. Cook, stirring, for a further1 minute.
Pour in vegetable broth, then stir in cauliflower florets.
Close the pot and lock the lid.
Set the machine to cook at high pressure. Set the timer to cook for 15 minutes.
Using the Quick Release method, bring pressure to normal. carefully unlock and open the lid.
Stir in heavy cream.
Using an immersion blender, puree the soup until smooth.
Ladle cauliflower soup in soup bowls. Garnish with 1/4 cup sliced almonds and chopped fresh rosemary.