Instant pot vegetable barley soup recipe. This is a very healthy recipe, quick and easy to make. It is full of vegetables, fiber, and protein. You can also make it with brown rice if you like it a little bit more hearty.
Is barley good for weight loss?
One of the most common reasons for weight gain is a lack of fiber. Fiber helps to keep you feeling full, and it also provides some health benefits such as lowering cholesterol levels and reducing the risk of heart disease.
Barley is a great source of fiber, which means that barley can be helpful in preventing weight gain.
The soluble fiber in barley helps to slow down digestion, which can help you feel fuller for longer periods of time.
It also slows down the absorption of sugar into the bloodstream, which means that you will have more stable blood sugar levels and fewer cravings for foods with high sugar content.
In addition to these benefits, barley contains other important nutrients such as iron and magnesium.
What is the best type of barley for this recipe?
Barley is a type of cereal grain that is made up of hulled grains. It can be used in many recipes, but one of the most popular uses is in beer production.
The best type of barley for this recipe would be pearl barley. This type of barley has lower moisture content and it also has a firmer texture than other types of barley. Pearl Barley is also known as "pearl" because it has a round, smooth shape that resembles pearls.
Instant Pot Vegetable Barley Soup Recipe
You may also like:
Slow Cooker Lemon Chicken Orzo Soup
Instant Pot Pumpkin Puree Soup Recipe
Slow Cooker Gherkin Soup Recipe
Slow Cooker Moroccan Bean Stew Recipe
Slow Cooker Sweet Red Pepper Soup Recipe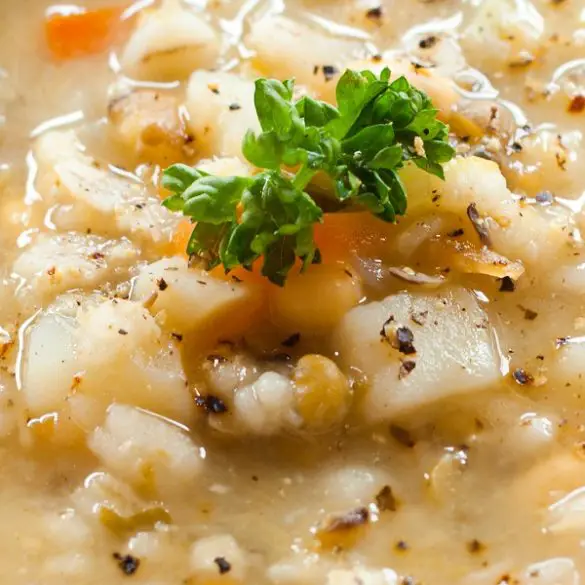 Ingredients
3/4 cup pearl barley

1 teaspoon cooking oil

1 medium yellow onion, diced

2-3 cloves garlic, peeled and finely chopped

1 carrot, peeled and diced

2 small celery stalks, diced

1/2 pound (240 g) potatoes, peeled and cubed

1 teaspoon thyme

salt and freshly ground black pepper, to taste

4 cups (1 L) vegetable stock

2 cups (500 ml) water

1 tablespoon freshly squeezed lemon juice

chopped fresh cilantro, for garnish
Instructions
Heat the oil in an electric instant pot turned to saute mode. Add garlic and onion and cook, stirring occasionally until onion is translucent.
Add carrots, potatoes, celery, and barley. Stir well. Season with salt, black pepper, and thyme.
Pour in the water, vegetable stock. Mix well.
Close the pot and lock the lid. Set the machine to cook at high pressure. Set the timer to cook for 20 minutes.
Using the Quick Release method, bring pressure to normal. Carefully unlock and open the lid.
Ladle the soup into soup bowls. garnish with chopped fresh cilantro. Serve hot.