Slow cooker sweet red pepper soup recipe. This soup is a hearty, comforting meal that only takes a few hours to make. It's packed with fire-roasted sweet red peppers, fresh tomato juice, and spices.
What is the difference between a slow cooker and a pressure cooker?
A slow cooker is a cooking appliance that cooks food by heating it with moist heat, usually in the form of steam. The user sets the temperature and time, and leaves it unattended to cook food. A pressure cooker is similar in function to a slow cooker but typically uses more heat to cook food quicker.
What is slow cooker sweet red pepper soup?
Slow cooker sweet red pepper soup is a dish that has been around for a long time. It is a hearty soup made with roasted red peppers, onions, jalapeno chilies, vegetable broth broth and spices.
A slow cooker is used to cook the ingredients in a pot of water on high heat for several hours. It's an easy way to make any dish you want in the comfort of your own home.
What other dishes can I cook in a slow cooker?
Slow cookers are a great way to make soups and stews. But they can also be used to make other types of dishes if you know how to use them.
You can use your slow cooker to make soups, stews, and sauces. You can even cook beans in the slow cooker for a hearty dish like chili or a bean dip.
Here are some other recipes you could try:
–Slow Cooker Chicken Tikka Masala: A spicy Indian dish made with chicken, tomatoes, onion, garlic, ginger, coriander powder, garam masala spices and yogurt.
–Slow Cooker Beef Stew: A hearty stew made with beef chuck roast that is cooked in the crock pot for hours on low heat.
Slow Cooker Sweet Red Pepper Soup Recipe
You may also like:
Slow Cooker Easy Mexican Corn and Bean Soup
Instant Pot Buttery Cauliflower Soup Recipe
Instant Pot Beet Hummus Recipe
Slow Cooker Brussels Sprouts Soup Recipe
Air Fryer Sweet Apple Fritters Recipe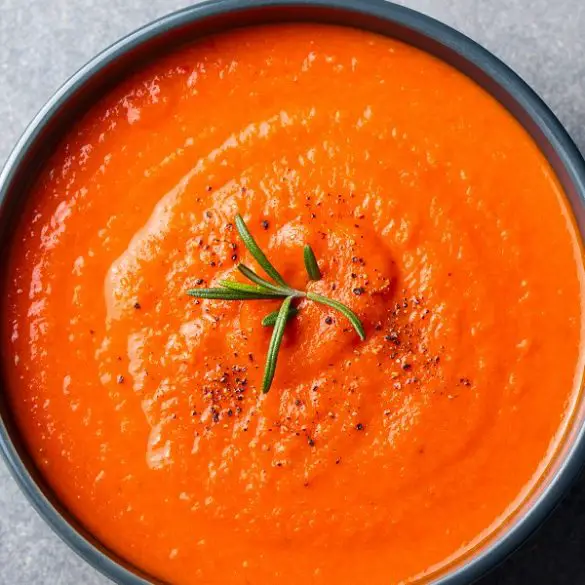 Ingredients
14½ oz (435 ml) can vegetable broth

15 oz (450 ml) jar roasted red bell peppers, drained

1 cup (250 ml) tomato juice

1 medium yellow onion, peeled and chopped

1/2 small jalapeno chili, seeded and minced

1/2 teaspoon dried marjoram leaves

salt and freshly ground black pepper, to taste
Instructions
In a 6-quart (6 L) slow cooker, combine all ingredients, except seasoning.
Mix well.
Close the pot and cook in a high-heat setting for 2-3 hours.
Turn off the slow cooker and open the lid.
Transfer the soup into a food processor. Process until smooth.
Season to taste with salt and black pepper.
 Serve warm or refrigerate and serve it chilled.