Slow cooker Brussels sprouts soup recipe. Who doesn't love a good slow cooker recipe? This Brussels sprouts soup is the perfect meal for a chilly day. The addition of bacon and thyme (optional) makes this dish extra special. It's also easy, healthy, and delicious.
What is a Brussels Sprouts Soups Recipe?
Brussels sprouts are a type of cabbage that grows with thick, edible leaves. They're sometimes called the cabbages of winter because they're harvested in the fall and eaten during the winter months.
Brussels sprouts are an excellent source of vitamin C, dietary fiber, and potassium. They also contain antioxidants that may help protect against cancer and heart disease.
Brussels sprouts soup is a paleo soup recipe made with vegetables like Brussels sprouts, carrots, celery, onion, garlic, and broth or water.
How to Make Slow Cooker Brussels Sprouts Soup in an Instant Pot or Pressure Cooker?
If you want to make Brussels sprouts soup in a pressure cooker or an instant pot, you need to first cook the vegetables and then add the broth.
The process of cooking Brussels sprouts soup in an instant pot is very similar to cooking it in a stovetop pressure cooker.
What are the Benefits of Making Your Own Slow Cooker Soup?
Slow cooker soup is a great option for those who are busy but want to make a delicious meal. With the right ingredients and a slow cooker, you can make this simple meal in just a few hours.
You can make your own slow cooker soup with these basic steps:
– Add ingredients to the crock pot and set it to low or high depending on your preference.
– Wait until the cooking time is up before serving.
Slow Cooker Brussels Sprouts Soup Recipe
You may also like:
Air Fryer Sweet Apple Fritters Recipe
Instant Pot Red Lentil Soup Recipe
Slow Cooker Vichyssoise Soup Recipe
Slow Cooker Vidalia Onion Soup Recipe
Air Fryer Cabbage Steaks Recipe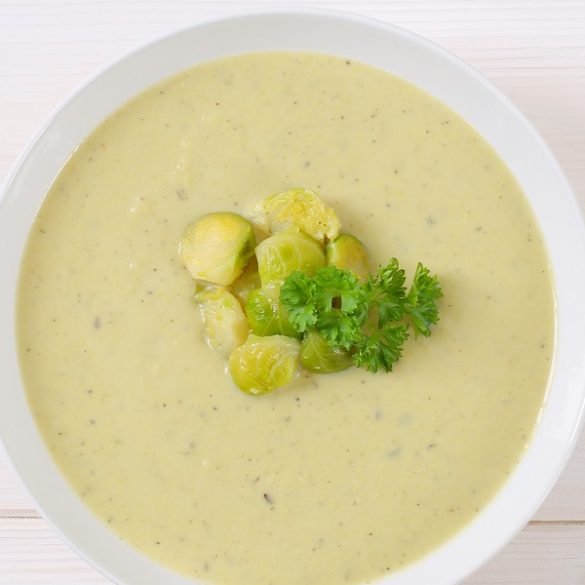 Ingredients
1 pound (480 g) Brussels sprouts, halved

1/2 cup chopped yellow onion

2 teaspoons minced garlic

1/2 teaspoon dried rosemary

1 cup (250 ml) vegetable broth

1 cup (250 ml) 2% reduced-fat milk

2 tablespoons cornstarch

salt and ground white pepper, to taste

boiled Brussels sprouts, for garnish
Instructions
In a 6-quart (6 L0 slow cooker, combine Brussels sprouts, onion, garlic, rosemary, and vegetable broth.
Mix well.
Cover the pot and cook in a high-heat setting for 2-4 hours, or until Brussels sprouts are very tender.
Turn the cooker and open the lid. Transfer cooked soup to a food processor. Add the milk.
Process until smooth.
Ladle the soup into the soup bowls. Season it with salt and white pepper.
Garnish with boiled Brussels sprouts. Serve hot.