Instant pot red lentil soup recipe. Healthy and hearty, this vegan red lentil soup from the pressure cooker is ready in under 30 minutes.
Why is the Instant Pot great for cooking red lentils?
The Instant Pot is great for cooking red lentils because it can cook the lentils in about 30 minutes. It is also an electric pressure cooker which makes it easy to use.
The Instant Pot is a great cooking option for red lentils because it cooks them in about 30 minutes. This makes it much faster than other methods like boiling or using a stovetop pressure cooker. Another benefit of the Instant Pot is that it's an electric pressure cooker, so you don't need to worry about getting the stovetop hot enough before starting the cooking process.
What are some ingredients that are typically included in red lentil soup?
Red lentil soup is a healthy and hearty soup, which is made of lentils, vegetables, and herbs.
The ingredients in red lentil soup typically include:
– Lentils
– Vegetables such as carrots, celery, onion, garlic
– Herbs such as parsley and cilantro
– Spices such as cumin and curry powder
– Lemon juice and salt
What are the benefits of adding garlic to this soup?
Adding garlic to this soup will give it a more robust, savory flavor. It will also provide some health benefits such as lowering the risk of heart disease and cancer.
Instant Pot Red Lentil Soup Recipe
You may also like:
Slow Cooker Vichyssoise Soup Recipe
Slow Cooker Vidalia Onion Soup Recipe
Air Fryer Polenta Chips Recipe
Air Fryer Crispy Onions Recipe
Air Fryer Italian Focaccia Bread Recipe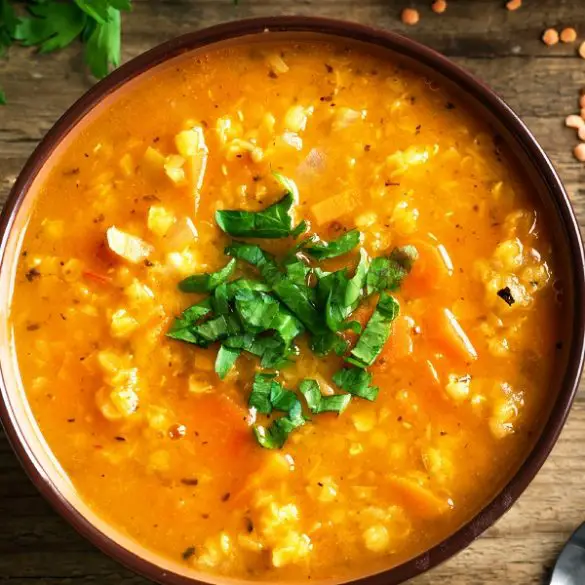 Ingredients
1 tablespoon olive oil

1 small yellow onion, peeled and diced

3 medium carrots, peeled and diced

4 cloves garlic, peeled and minced

6 cups (1.5 l) vegetable broth

1½ cups red lentils, rinsed

3/4 cup frozen sweet corn, thawed

freshly squeezed juice of 1 lemon

zest of 1 lemon

1 teaspoon ground cumin

1/2 teaspoon curry powder

1/2 teaspoon ground turmeric

1/4 teaspoon red pepper flakes

pinch of saffron

1 teaspoon salt

1/4 teaspoon freshly ground black pepper
Instructions
Heat the olive oil in an electric instant pot turned to saute mode.
Add onions and carrots. Saute, stirring occasionally, for about 5 minutes. Add minced garlic and cook, stirring, for a further 1 minute.
Pour in vegetable broth, then stir in the remaining ingredients.
Close the pot and lock the lid.
Set the machine cook at high pressure. Set the timer to cook for 7 minutes.
Using the Quick Release method, bring pressure to normal. Carefully unlock and open the lid.
Using an immersion blender, puree the soup to desired consistency.
Serve lentil soup hot.