Air fryer crispy onions recipe. If you are looking for an easy way to make crispy onions, you need an air fryer. This type of fryer uses hot air to create a frying effect without the use of oil.
Why Air Fryers are the Best for Onions?
Air fryers have become a popular kitchen appliance in recent years because of their ability to cook food without using oil. This means that you can make healthier foods in your own home.
Air Fryers are the best for onions because they use a high-velocity air stream to create heat and circulate it around the food. This means that the outside of the onion will be crispy while the inside stays juicy and tender.
4 Air Fryer Recipes with Onions
Air fryer oven pizza with crispy onions
Air fryer crispy onion bacon cheeseburger sliders
Air fryers are a great way to make crispy and delicious French Onion Soup. It is a healthy alternative to frying the onions in oil.
Air fryers use little or no oil, and they cook food by circulating hot air around it. Air fryers cook food more quickly than ovens or stovetops, and they don't add any extra fat or calories.
You can enjoy this soup with some crusty bread for dipping!
Air Fryer Crispy Onions Recipe
You may also like:
Slow Cooker Bean and Barley Soup Recipe
Air Fryer Italian Focaccia Bread Recipe
Air Fryer Chocolate Cupcakes Recipe
Air Fryer Teriyaki Tempeh Recipe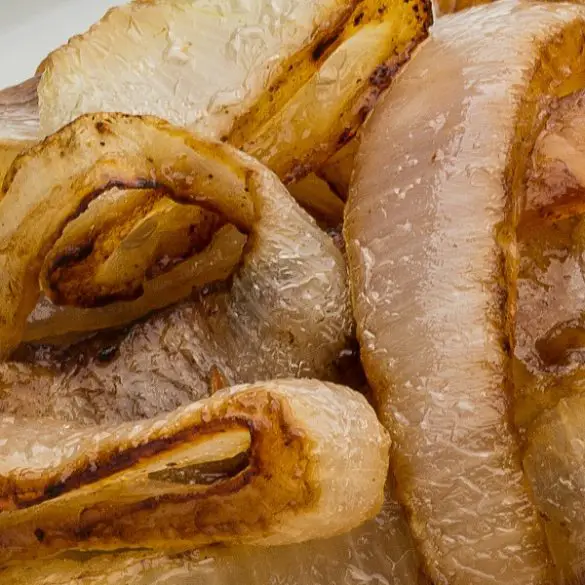 Ingredients
1/2 pound (240 g) sweet onions, peeled and sliced into half-moons

1 tablespoon (15 ml) avocado oil

salt, to taste
Instructions
Place sliced onions in a bowl and drizzle with olive and sprinkle with salt.
Spread seasoned onions out in the air fryer basket.
Fry at 350º F (175º C) for 12 minutes, stirring them after 10 minutes of cooking.
Reduce the temperature to 300º F (150º C). Fry for a further 5- 10 minutes, or until golden brown.