Air fryer teriyaki tempeh recipe. If you love the taste of teriyaki but not the grease, this fried teriyaki tempeh recipe is for you. With just a few ingredients, dinner is served.
What are the ingredients for teriyaki sauce?
Teriyaki sauce is a Japanese-style sauce made with soy sauce, sake, vinegar, and sugar or honey.
The ingredients for teriyaki sauce are soy sauce, sake, vinegar, and sugar or honey. These ingredients are mixed together in a pan to create the teriyaki flavor.
What are the benefits of air frying?
Air frying is a healthy way to cook food. It is great for people who are following a vegan lifestyle, people with diabetes, and those who want to cut down on oil consumption.
The two main benefits of air frying are that it cooks food quicker and it uses less oil. Air frying takes the place of deep-frying and provides a healthier alternative because there is no need to use large amounts of oil in order to fry the food.
What are some of the most popular air fryer recipes?
Air fryers are gaining popularity in the past few years. It is a healthier way of cooking because it uses very little oil and cooks food in a short amount of time. There are many different recipes for using an air fryer, but we will only list the most popular ones.
Air Fryer Recipes: French Fries, Sweet Potato Fries, Balsamic Brussels Sprouts, Baked Potato, Fried Carrots
Air Fryer Teriyaki Tempeh Recipe
You may also like:
Air Fryer Chestnuts: Delicious and Easy Holiday Treat
Instant Pot Vegan Paella Recipe
Air Fryer Mussels with Cheese Recipe
Slow Cooker Vegetable and Chickpea Stew Recipe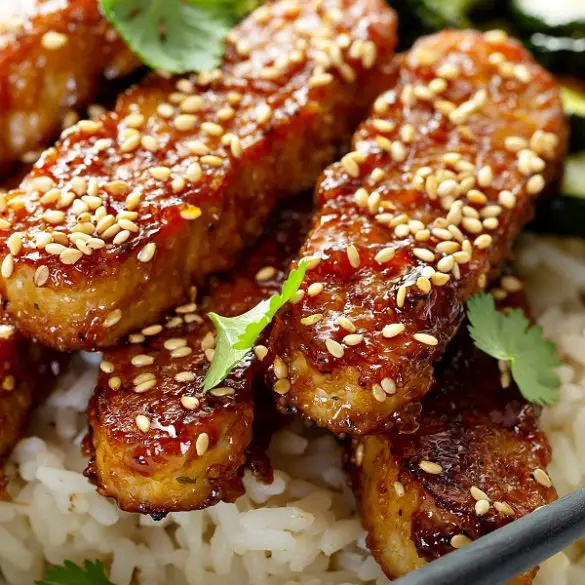 Ingredients
1/2 cup (125 ml) avocado oil

1/2 cup (125 ml) teriyaki sauce

1 tablespoon vegan and gluten-free Worcestershire sauce

1 tablespoon liquid smoke

1/2 teaspoon cayenne pepper

1 pound (480 g) tempeh, cut into thick strips

toasted sesame seeds
Instructions
In a mixing bowl, combine the avocado oil, teriyaki sauce, Worcestershire sauce, liquid smoke, and cayenne pepper.
Whisk well.
Place tempeh strips into the bowl with teriyaki mixture. Allow them to marinate for 20 minutes, flipping halfway through.
Preheat your air fryer to 400º F (200ºC) for 5 minutes.
Place marinated tempeh strips in the air fryer basket. Fry at 320º F (160º C) for 8 minutes, flipping halfway through.
Remove frier tempeh from the fryer and transfer them to a serving plate.
Sprinkle with sesame seeds. Serve hot.