Air fryer mussels with cheese recipe. This quick and easy recipe is perfect for an appetizer or a hearty meal.
What are the advantages of using an air fryer to cook these mussels?
There are a few reasons that someone might choose to use an air fryer over other cooking methods, such as the stovetop or the oven. First, it is much easier to clean up after an air fryer is used than after a stovetop or oven. Second, it is much quicker than other cooking methods and doesn't require any preheating so it's perfect for those who live in small spaces or for people who don't want to spend a lot of time in their kitchen. Finally, air frying allows the user to cook with minimal oil and fat and can help lower cholesterol and cut calories when used correctly.
What does cheesy mussels taste like?
Cheesy mussels are a dish that is a favorite in the Canadian province of Nova Scotia.
The flavor of cheesy mussels comes from the rich cream sauce which is made from mayonnaise, cheese, and Sriracha sauce. The sauce can be flavored with white wine or clam juice for additional flavor.
What is a good accompaniment to baked mussels with cheese?
The accompaniment for this type of dish is very subjective and you can choose from a number of options. Some ideas for a good accompaniment might be fries, salad, and rice.
Air Fryer Mussels with Cheese Recipe
You may also like:
Slow Cooker Vegetable and Chickpea Stew Recipe
Instant Pot Vegan Meatballs in Marinara Sauce
Slow Cooker White Beans with Tomato Sauce
Air Fryer Donuts with Chocolate Sauce
The Best Air Fryer French Toast Recipe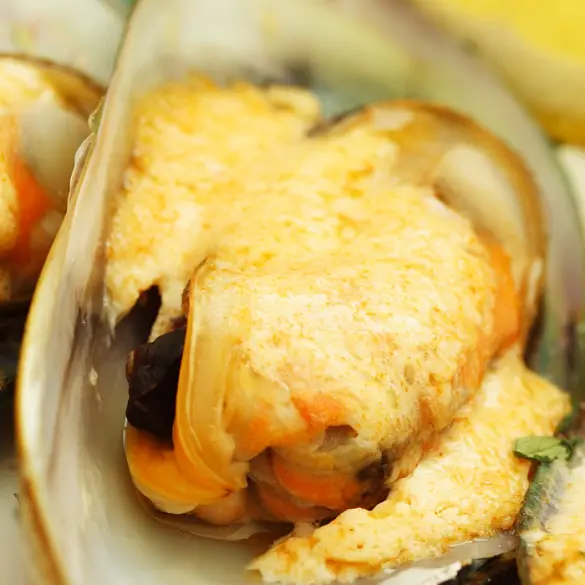 Ingredients
12 green mussels defrosted

6 tablespoons mayonnaise

3 tablespoon grated Parmesan cheese

1/4 teaspoon salt

1 teaspoon Sriracha sauce

1/2 teaspoon granulated sugar

1 teaspoon freshly squeezed lemon juice (lime juice will work as well)
Instructions
In a small mixing bowl, combine mayonnaise, Parmesan cheese, salt, Sriracha sauce, sugar, and lemon/lime juice.
Mix well and set aside.
Line the air fryer basket with aluminum foil. Place mussels in a single layer in the lined basket.
Top each mussel with cheese mixture. Fry at 350 F (175 C) for 8 minutes, or until sauce is slightly brown.
Serve hot! Enjoy!