Air fryer donuts with chocolate sauce. These donuts are light and fluffy on the inside, crisp on the outside, and covered in rich chocolate sauce.
How do you make chocolate sauce?
This recipe is a basic chocolate sauce that can be used for ice cream, brownies, or even hot chocolate.
Ingredients:
– 4 tablespoons of cocoa powder
– 2 tablespoons of milk – 4 tablespoons of sugar
– 3/4 cup of water
– 1 teaspoon vanilla extract
– 1 tablespoon cornstarch
Directions: Mix together the cocoa powder, milk, and sugar in a pot on medium heat. Whisk in the water and bring to a simmer. In a separate bowl whisk together cornstarch and just enough cold water to make it into a slurry before adding it to the saucepan. Simmer for about 3 minutes or until thickened before adding vanilla extract. Pour into jar with lid and refrigerate until ready to use.
What are some other ways to make chocolate sauce?
The ingredients in a sauce can make or break a dish. This is the same for chocolate sauce.
The simplest way to make the chocolate sauce is to melt some chocolate and add some liquid ingredients like milk or cream, vanilla, salt, and sometimes butter. However, there are many more variations in this traditional recipe. For instance, you can add cocoa powder for more flavor or even cinnamon for a new taste altogether.
A lot of people like to use melted caramels in their chocolate sauces because it gives them that extra sweetness that they crave. Another variation includes adding marshmallows to the mix which gives the sauce an entirely new texture and taste altogether.
What is the difference between frying and air frying?
Frying is cooking food in hot oil or fat. With this method, the food is submerged with hot oil.
Air frying, on the other hand, uses an electric fan to circulate air around the food that has been coated in a thin layer of oil. Air-fried foods tend to be crispier and healthier because they are not being submerged in fat or oil.
Air Fryer Donuts with Chocolate Sauce
You may also like:
The Best Air Fryer French Toast Recipe
Instant Pot Blueberry Cake Recipe
Air Fryer Boston Brown Bread Recipe
Air Fryer Spanish Spicy Potatoes Recipe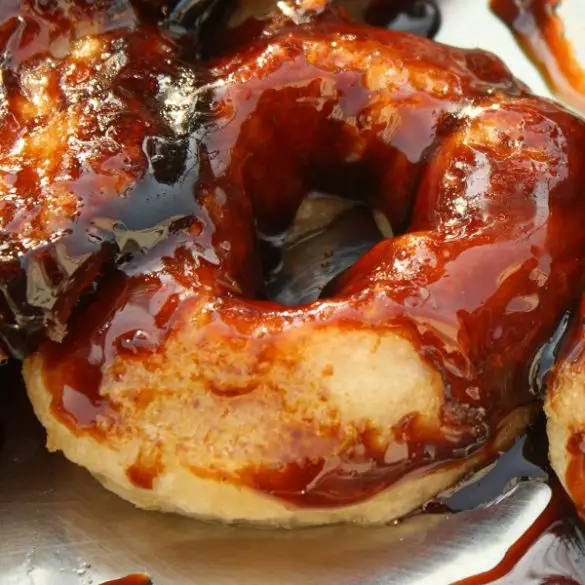 Ingredients
1 cup granulated sugar

1 tablespoon grated cinnamon

1 can of biscuits

1/2 stick unsalted butter, melted
Instructions
Preheat your air fryer to 350º F (175º C) for 5 minutes.
Lay our biscuits and, using a cookie cutter, cut a hole in the center. Spray the biscuits with nonstick cooking spray.
Place them in the air fryer basket. Fry for 4-6 minutes or until browned.
Remove fried donuts from the fryer and transfer them to a cooling rack. Allow them to cool for a few minutes.
In a small mixing bowl, combine the cinnamon and sugar. Stir well.
Dip the donuts into the melted butter and then into the cinnamon-sugar mixture.
Pour the chocolate sauce over donuts. Serve immediately.