Instant pot blueberry cake recipe. This blueberry cake is made with fresh blueberries. It's low-fat, easy, and so good!
What are the benefits of using an instant pot to make this cake?
Instant pot is a high-tech cooking device that is revolutionizing the way people cook their food. It provides a safe and convenient way to cook food when you are tight on time.
The first benefit of using an instant pot to make this cake is that it requires less attention from the user. In traditional cooking, it can be hard to manage all the different parts of a recipe while also being attentive in the kitchen. The need for constant monitoring can lead to errors or time spent in front of a stove instead in front of your friends and family. With an instant pot, you just have one thing to worry about: pressing buttons on the device and waiting for it do its work!
What makes this cake so moist and fluffy?
The eggs are beaten with sugar until they are fluffy. The butter is melted and mixed in.
The flour, salt, baking powder, and vanilla are mixed together before adding to the egg-sugar mixture. The whole wheat flour has a higher level of protein than all-purpose flour, which makes it better for cakes that don't need much gluten because the cake won't be as dense or heavy.
What is the best type of cake to make in an instant pot?
The best type of cake to make in an instant pot is a chocolate cake. The cake will be moist and fluffy. When you combine the ingredients with the correct amount of water, it will be done cooking in about 25 minutes. The best part about this cake is that it is so easy to make. You can even make a cake mix at home and then pour it into the pot for a quick dessert for the family.
Instant Pot Blueberry Cake Recipe
You may also like:
Air Fryer Boston Brown Bread Recipe
Rich and Tasty Chinese Fried Rice in a Slow Cooker
Instant Pot General Tso's Tofu Recipe
Instant Pot Baked White Bread Recipe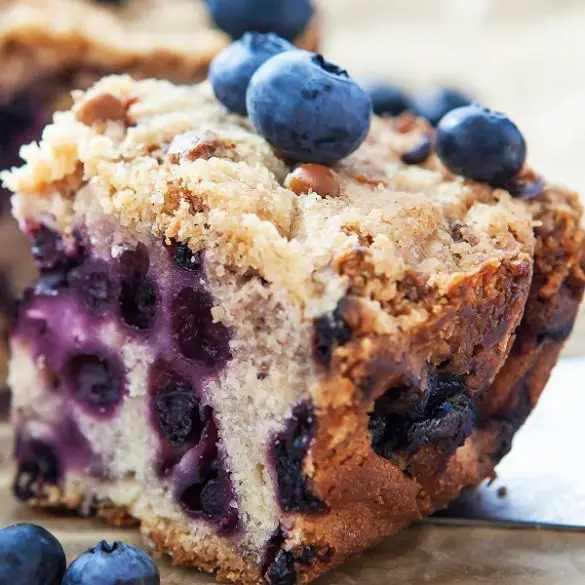 Ingredients
5 eggs, lightly beaten

1/4 cup granulated sugar

2 tablespoons unsalted butter, melted

1½ cups 2% Greek yogurt

zest of 1 lemon

2 teaspoons vanilla extract

1¼ cups whole wheat pastry flour

1/2 teaspoon salt

2 teaspoons baking powder

1 cup fresh or frozen blueberries (if you use frozen, thawed)

1/4 cup chopped walnuts

1 tablespoon white whole what flour
Instructions
Lightly grease a 7-inch (17.5 cm) springform with nonstick cooking spray.
In a large mixing bowl, combine the eggs and sugar. Beat until smooth.
Add melted butter, yogurt, lemon zest, and vanilla extract. Mix until well combined.
In a separated mixing bowl, combine the flour, salt, and baking powder. Stir well.
Combine the dry mixture with the egg mixture. Stir until combined (do not overmix!)
Pour the batter into the greased pan and smooth the top.
Sprinkle with chopped walnuts.
In a small bowl, combine blueberries and whole wheat flour. Toss to lightly coat berries. Using a slotted spoon, place the berries on top of the batter, allowing excess flour remain in the bowl.
Using a knife, fold blueberries into the batter until berries are covered.
Pour 1 cup (250 ml) of water into the instant pot, then place a trivet inside. Arrange the springform pan on the trivet.
Close the pot and lock the lid. Set the machine to cook at high pressure. set the timer to cook for 40 minutes.
Using the Natural Release method, bring pressure to normal. Carefully unlock and open the lid.
Remove the pan from the cooker. Serve cake warm.