Instant pot general tso's tofu recipe. Tso's tofu is herbal and loaded with flavor thanks to its ginger, garlic, and soy sauce. A Chinese-inspired recipe is a great option for vegetarians, vegans, and carnivores alike.
What is the difference between tofu and soy?
Tofu is made from soybeans, whereas soy is the name of several plant varieties.
In addition to its use as a food in many dishes and dishes, tofu is also used as a thickener in sauces and other products. Soy sauce and soy flour are both made from fermented soybeans.
What is the difference between a tofu and a meatless meat?
Many people are aware of the difference between a vegetarian and a vegan, but there is still confusion about what the difference is between meatless meat and tofu. Let's explore the differences between these two terms.
The main difference between tofu and meatless meat is that tofu is made with soy milk while meatless meats are not. Tofu also contains protein, vitamins, minerals, fiber, and other nutrients while most types of mock meats do not.
Tofu can be considered one of the healthiest foods due to its high nutrient content such as protein, vitamin B12, iron, and iodine. It also contains essential fatty acids which can help reduce cholesterol levels.
How does general tso's tofu taste?
General Tso's tofu tastes like a mixture of sweet and sour with a hint of garlic.
Instant Pot General Tso's Tofu Recipe
You may also like:
Instant Pot Baked White Bread Recipe
Instant Pot Vegetable Ragout Recipe
Air Fryer Pumpkin Sourdough Bread Recipe
Slow Cooker No Yeast Bread Recipe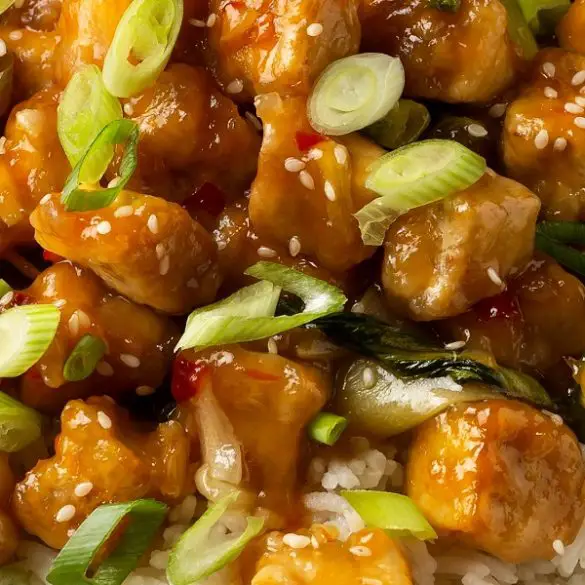 Ingredients
For the Tofu:

14 oz (420 g) block tofu

3 tablespoons cornstarch

/12 teaspoon salt

1/4 teaspoon freshly ground black pepper

vegetable oil

1 pack chi, chopped

To Make a Sauce:

1 tablespoon sesame oil

3 cloves garlic, peeled and minced

1/4 cup (60 ml) rice vinegar

1/4 cup (60ml) soy sauce

1/4 cup granulated sugar

2 teaspoons grated ginger

1/2 teaspoon red pepper flakes

1 tablespoons cornstarch

1/2 cup (125 ml) vegetable stock

To Make a Rice:

2 cups uncooked long-grain rice, rinsed

2¼ cups (310 ml) water

1/4 cup granulated sugar

1/2 cup (125 ml) rice vinegar

1 teaspoon salt

1/2 teaspoon freshly ground black pepper

To Garnish:

chopped green onions

sesame seeds
Instructions
Using a tofu press, press the tofu. Let it stay for 2-4 hours, draining off the liquid several times.
In an electric instant pot, combine uncooked rice, water, sugar, vinegar, and seasoning. Stir well.
Close the pot and lock the lid. Set the machine to cook at high pressure. Set the timer to cook for 28 minutes.
Using the Quick Release method, bring pressure to normal. Carefully unlock and open the lid. Drain cooked rice and set aside.
Cut the tofu into cubes. In a ziplock bag, combine cornstarch, ginger, salt, and black pepper. Stir well to combine.
Add cubed tofu to the cornstarch mixture. Zip up the bag and shake well. In a large nonstick skillet, heat the oil over medium-high heat. 
Add marinated tofu and pack choi and cook, stirring occasionally, for about 10-12 minutes, or until browned, flipping halfway through. Remove fried tofu and pack choi from the skillet and transfer to a large plate.
Add all sauce ingredients to the skillet, except cornstarch and stock, and mix well to combine.
In a mixing bowl, combine vegetable stock and cornstarch. Whisk until completely combined.
Pour the cornstarch mixture into the skillet with the sauce. Stir well. Cook, stirring occasionally, over medium heat until it starts slightly thicken, for about 3-5 minutes.
Return fried tofu to the skillet and stir well with the sauce.
Assemble bowls with cooked rice topped with saucy tofu. Sprinkle with chopped green onions and sesame seeds. Serve hot.