Slow cooker no yeast bread recipe. This low-carb, gluten-free bread recipe uses no yeast and is perfect for whole wheat bread. It's a great way to use your slow cooker.
What is slow cooker no yeast bread?
Slow cooker no yeast bread is made in a slow cooker, without yeast or bread machine. This recipe is used for homemade gluten-free bread.
What is the best type of flour to use with no yeast bread?
The best type of flour to use with a slow cooker no yeast bread is self-rising white flour. It has the ideal amount of protein and starch, which is necessary for making a good loaf.
Most people choose to use bread flour because it contains more gluten and can give a softer loaf. However, bread flour creates too much gluten in the dough and makes it difficult to get an even rise in the oven. Using a combination of self-rising white flour and bread flour will give you the perfect texture that you are looking for.
What is the difference between a "no yeast" and "no knead" bread?
"No yeast" bread is made without the use of yeast or any other leavening agent. It is a type of white bread with a very dense texture. It is created by mixing flour, salt, water, and sometimes eggs. "No knead" bread is also known as "no-knead bread". Unlike "no yeast", it doesn't require any rising time before baking. As its name implies, this loaf needs no kneading to be made.
These two bread types are not the same thing. They are completely different recipes and require different techniques to make them work respectively.
Slow Cooker No Yeast Bread Recipe
You may also like:
Instant Pot Baked White Bread Recipe
Instant Pot Vegetable Ragout Recipe
Air Fryer Prawn Cracker Recipe
Air Fryer Loaded Sweet Potatoes Recipe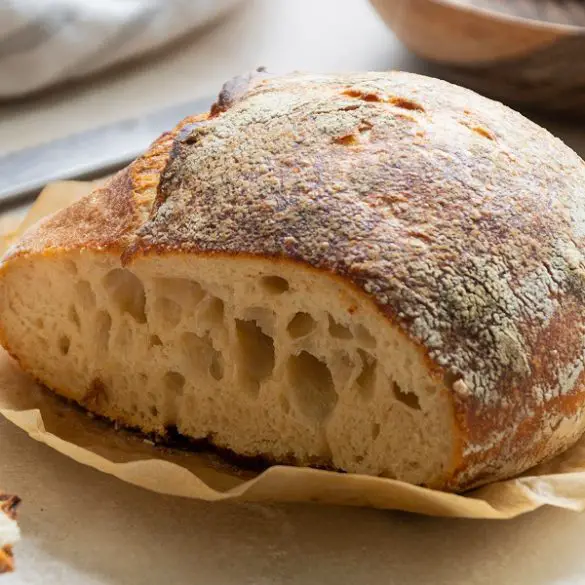 Ingredients
3 cups self-rising flour

2 tablespoons granulated sugar

2 teaspoons baking powder

1 teaspoon salt

1 teaspoon granulated garlic

1 teaspoon Italian mixed herbs

1/2 teaspoon paprika

1 cup grated Cheddar cheese

1 cup (250 ml) low-fat buttermilk
Instructions
In a small mixing bowl, combine self-rising flour, baking powder, salt, spices, and sugar. Stir well.
Add mixed herbs and grated cheese. Mix well to combine.
Pour in the buttermilk and mix, using your hands, until you have a very shaggy loose dough.
Transfer the dough to the floured surface. Shape it to a round loaf. Using a sharp knife, cut a deep cross on top of the loaf.
Transfer the loaf to the slow cooker lined with 2 layers of baking paper.
Cover the pot with a clean towel. add the lid and on a high-heat setting for 2½ hours.
Using the baking paper, lift the bread and turn it over. Return it to the cooker, close the lid and cook for a further 30 minutes.
Turn off the slow cooker and open the lid. Remove cooked bread from the pot and allow it to cool.
Slice and serve!