Air fryer loaded sweet potatoes recipe. Looking for a healthy alternative to fried potatoes? Try these baked sweet potatoes loaded with Cheddar cheese, sour cream, and red onions.
Air fryers are gaining popularity for their many benefits. Here are some of the most popular pros and cons of using an air fryer:
What are some of the benefits of using an air fryer?
Air frying is a healthy alternative to deep-frying because it doesn't create all that grease or oil that you get with traditional frying and it's also much faster than cooking in the oven. It also reduces calories and fat, making it a great option for people who want to maintain their health while still eating delicious foods. You can deep-fry, oven-bake, or air-fry all types of foods such as chicken wings, french fries, onion rings, mozzarella sticks, and even desserts like doughnuts.
What are the benefits of using an air fryer to cook sweet potatoes?
A recent study has shown that using an air fryer to cook sweet potatoes can reduce caloric intake by up to 38 percent. The air fryer also helps preserve the food's natural nutrients and does not make a mess in the kitchen.
Air fryers are designed to help you cook food with less oil, which is generally healthier. Sweet potatoes are a healthful vegetable but they can be high in calories if they're cooked the wrong way. Cooking with an air fryer reduces calorie intake by as much as 38%. Air fryers let you cook without making a mess of your kitchen, which is another advantage over regular frying methods.
Air Fryer Loaded Sweet Potatoes Recipe
You may also like:
The Best Instant Pot Turkey Soup
Air Fryer Blueberry Cobbler Recipe
Instant Pot Apple Crisp Recipe
Slow Cooker Creamy Taco Pasta Recipe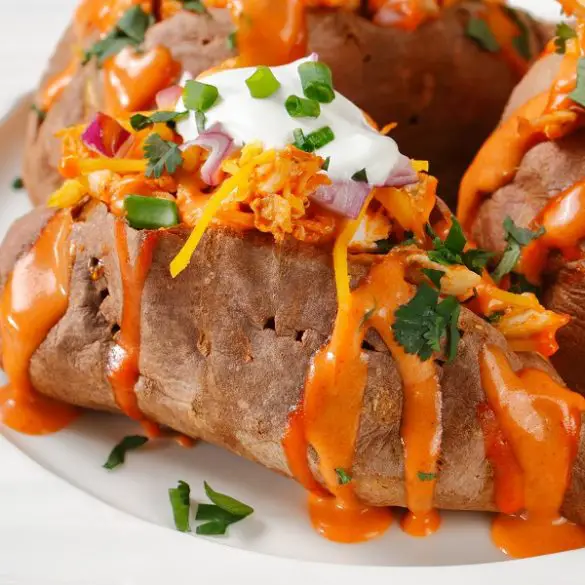 Ingredients
4 medium-size sweet potatoes, washed and pat dried

1 tablespoon olive oil

1/4 teaspoon kosher salt

1/4 teaspoon freshly ground black pepper

1/4 teaspoon garlic powder

shredded Cheddar cheese

sour cream

1 medium red onion, peeled and chopped

chopped green onions
Instructions
Poke the sweet potatoes several times with a fork.
In a medium mixing bowl, combine the olive oil, salt, black pepper, and garlic powder. Mix well.
Add potatoes and toss well to coat.
Preheat your air fryer to 400º F (200º C) for 5 minutes.
Place seasoned potatoes in the air fryer basket. Fry at 390º F (185º C) for 40 minutes, or until potatoes are fork-tender.
Remove fried potatoes from the fryer and transfer them to a large plate. Top with shredded Cheddar cheese, sour cream, red onions, and chopped green onions.
Serve hot.