Slow cooker creamy taco pasta is easy to make with ground beef, tomatoes, and spices. A one-pot meal that's perfect for busy weeknights.
What spices or herbs are needed for the dish?
The recipe for this dish needs to include one or more herbs and spices. This is not to say that other ingredients are not needed, but the balance of herbs and spices will give it that signature taste.
What kind of noodles are right for this recipe?
It is very important to know what kind of noodles are right for each dish. It can make or break the dish.
You should only use thin noodles with a recipe that has a lot of liquid, like soup or broth. Thick noodles are better for cooking methods that require less liquid, like stir-fry dishes. Udon and soba are perfect for these types of dishes because they don't get mushy when cooked in a pan without broth. Ramen noodles are great if you want something light and not too filling.
Slow Cooker Creamy Taco Pasta Recipe
You may also like:
Slow Cooker Mushroom and Dill Soup Recipe
Slow Cooker Tomato and Bean Soup Recipe
Instant Pot Curried Lentil Soup Recipe
Instant Pot Eggplant Caviar Recipe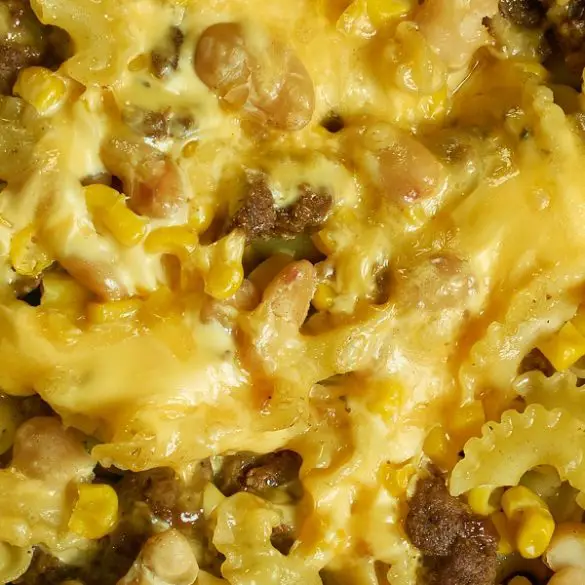 Ingredients
1 pound (480 g) cooked ground beef, crumbled

15 oz (450 ml) can diced tomatoes

2 tablespoons taco seasoning

1¼ cups (310 ml) water

2 cups uncooked pasta shells

1/2 block cream cheese, softened and cubed

1/2 cup diced green bell pepper

1/2 cup diced yellow onion

15 oz (450 ml) can kernel corn, drained
Instructions
In a 6-quart 96 L0 slow cooker, combine cooked ground beef, diced tomatoes, taco seasoning, and 1 cup (250 ml) water.
Mix well. Cover the pot and cook in a high-heat setting for 1 hour.
Meanwhile, partially cook pasta in salted boiled water for about 6 minutes. using a colander, drain, and set aside.
Open the lid and stir in cubed cream cheese, cooked pasta, 1 cup shredded cheese, green bell pepper, corn, diced onion, and remaining water.
Mix well, then cover the cooker and cook in a high-heat setting for a further 2 hours.
Turn off the slow cooker and open the lid. Stir the taco pasta well before serving.
Serve hot.