Slow cooker mushroom and dill soup recipe. This soup is a perfect dinner for cold evenings. The soup is vegetarian and gluten-free.
What are the benefits of this soup?
This is a post with a list of benefits that you might not have considered before.
You can use this soup to lose weight
It makes your skin clearer and brighter
The ingredients are very healthy
It tastes great!
What are some variations of this soup that you can make?
There are many variations of this soup that you can make. For example, you can change the seasonings to make it taste like chicken noodle soup or make it with greens for a healthier option.
If you want to make this soup vegetarian, be sure to use vegetable broth instead of beef broth and replace the beef with tempeh or tofu.
Slow Cooker Mushroom and Dill Soup Recipe
You may also like:
Air Fryer Broccoli Quiche Recipe
Slow Cooker Tomato and Bean Soup Recipe
Air Fryer Mac and Cheese Balls
Instant Pot Curried Lentil Soup Recipe
Instant Pot Eggplant Caviar Recipe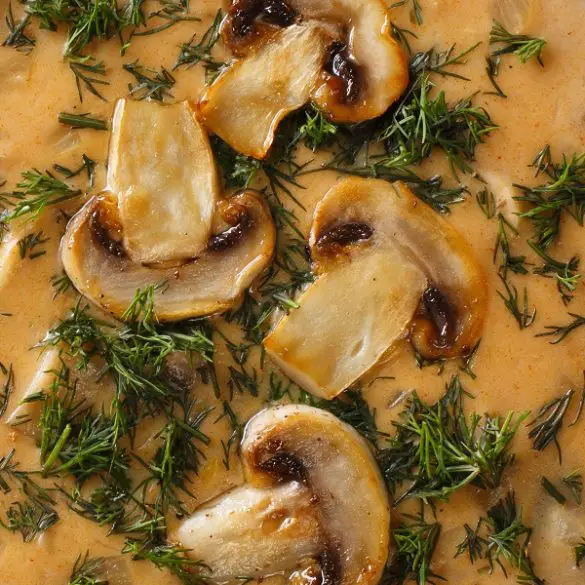 Ingredients
2 tablespoons olive oil

1 yellow onion, peeled and diced

2 garlic cloves, peeled and minced

6 cups mushrooms

1/4 cup (60 ml) balsamic vinegar

4 cups (1 L) vegetable broth

2 teaspoons dried thyme

1 teaspoon kosher salt

1/2 teaspoon freshly ground black pepper

1/4 cup (60 ml) skim milk

3 tablespoons cornstarch

1 cup (250 ml) Plain Greek yogurt

1 teaspoon dried dill
Instructions
Heat the olive in a large nonstick skillet over medium-high heat. Add onions, garlic, and mushrooms. Saute, stirring occasionally, until mushrooms are tender. Pour in the balsamic vinegar, then reduce the heat to low and simmer until vinegar has reduced by half. Transfer the mushroom mixture to a slow cooker. stir in the vegetable broth, thyme, salt, and black pepper. Close the pot and on low-heat setting for 4-6 hours or on high for 2-3 hours, adding the milk, cornstarch, and yogurt during the last 15 minutes of cooking time. Remove the soup from the cooker and transfer it to a food processor. Process until smooth. Ladle the soup into the soup bowls. Sprinkle with chopped dill and extra mushrooms.