Slow cooker tomato and bean soup recipe. This recipe is the best! It's healthy, topped with roasted tomatoes, vegan, and full of vegetables.
What are the steps to roast tomatoes?
To roast tomatoes, first preheat the oven to 350 degrees Fahrenheit. Cut the tomatoes in half, place them on a baking sheet, and drizzle with olive oil.
Place the tomatoes in the oven for about 45 minutes or until they are soft and juicy. Remove from the oven and top with salt flakes and fresh basil leaves before serving.
What are some variations of this soup?
Some variations of this soup could include:
– Adding a few leaves of fresh basil to the soup.
– Adding a spoonful of pesto sauce to the soup (Pesto is an Italian sauce that is made from olive oil, pine nuts, basil, garlic and cheese).
– Chopping up some vegetables such as carrots and potatoes and adding them in.
This soup has many variations and it is up to you which one you like best.
What ingredients do you need to make this soup?
This soup is made with the following ingredients:
– tomato paste
-garlic
-carrots
– celery
– yellow onion
– vegetable broth
-beans
Slow Cooker Tomato and Bean Soup Recipe
You may also like:
Air Fryer Mac and Cheese Balls
Slow Cooker Turkey and Spinach Stuffed Shells
Instant Pot Curried Lentil Soup Recipe
Instant Pot Lobster Bisque Recipe
Instant Pot Joumou Soup Recipe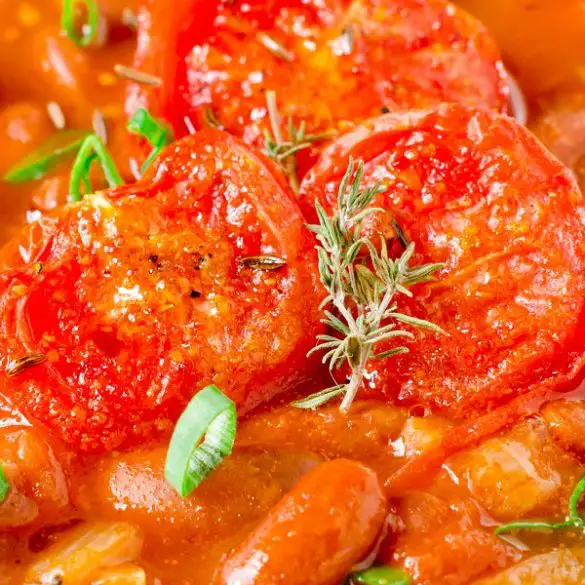 Ingredients
5 cans (14 oz (420 ml)) each vegetable broth

1 package 16 oz (480 ml) dried bean soup mix, rinsed

2 cups chopped carrots

1 large yellow onion, peeled and chopped

2 tablespoons tomato paste

1 teaspoon salt

1 teaspoon Italian seasoning

1/2 teaspoon freshly ground black pepper
Instructions
In a 6-quart (6 L0 slow cooker, combine all ingredients. Mix well.
Cover the pot and cook in a low-heat setting for 8-10 hours, or until bean and vegetables are tender.
Turn off the cooker and open the lid.
 Stir the soup well. Ladle into soup bowls.
Top with roasted tomatoes. Serve hot.