Instant pot caramel apple cheesecake recipe. A smooth cheesecake with a hint of apple topped with caramelized apples, to create the ultimate fall dessert.
Can you use other apples in place of Granny Smiths?
Yes you can. You can use any apple that is tart and crisp. This means that you should be able to use apples like Golden Delicious, Cortlands, Winesaps, Northern Spy, Idareds, etc.
No you cannot. Granny Smith apples are sour because of the high tannin content. If you try using other types of apples then the result would be something that is either too sweet or too crunchy – neither one being what you want in a pie crust.
What ingredients are used in this recipe?
Ingredients for this recipe are as follows: Graham Crackers, unsalted butter, eggs, apples, Dulce Leche, cream cheese, heavy cream, cinnamon, and pecans
This is a traditional cookie recipe that includes butter, sugar and flour. It also includes the salt and baking soda which is what makes this cookie so delicious.
Instant Pot Caramel Apple Cheesecake Recipe
You may also like:
Instant Pot Curried Lentil Soup Recipe
Instant Pot Lobster Bisque Recipe
Instant Pot Joumou Soup Recipe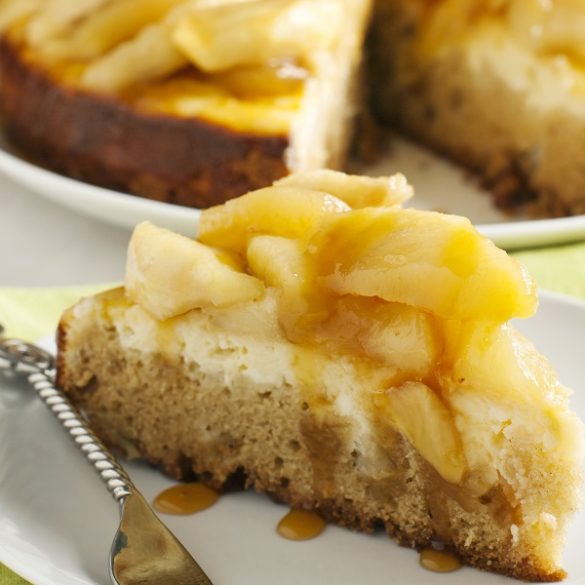 Ingredients
4 Graham Crackers

1 tablespoon chopped pecans

1/4 teaspoon ground cinnamon, divided

6 tablespoons unsalted butter, divided

16 oz (480 g) cream cheese

1/4 cup (60 ml) heavy cream

1/4 cup (60ml) sour cream

1/2 cup granulated sugar

2 large eggs

2 apples, washed, cored, peeled, and chopped

1 tablespoon Dulce Leche

2 cups (500 ml) water
Instructions
In a food processor, combine Graham Crackers, chopped pecans, 1/8 teaspoon ground cinnamon.
Process for 1 minute. Add 4 tablespoons of melted butter and process until well combined.
Grease the cake pan with 1 tablespoon of butter, then line the bottom of the cheesecake pan with parchment paper. Add butter to the circle, as well.
Place the crumbles on the bottom of the pan. Spread across the bottom, then, using the backside of a spoon, press crumbles down. Wrap the bottom of the cake pan with aluminum foil.
Using paper towels, wipe the food processor. Place the cream cheese and sugar in the processor.
Process for 1-2 minutes, or until everything is well combined.
Add eggs, cream, and sour cream. Process for a further 1-2 minutes.
Pour the cheesecake mixture on top of the crust.
Pour 2 cups (500 ml) of water into the electric instant pot. Place the cheesecake on the top of the trivet.
Close the pot and lock the lid. Set the machine to cook at high pressure. Set the timer to cook for 28 minutes.
Using the Natural method, bring pressure to normal. Carefully unlock and open the lid.
Remove the cake from the cooker and transfer it to a large plate. Allow it to cool, then cover with a foil and refrigerate overnight.
Heat the remaining in the nonstick skillet over medium-high heat. Add chopped apples and the remaining ground cinnamon. Cook, stirring occasionally for 7-8 minutes, or until apples are done.
Top chilled cake with cooked apples and 1 tablespoon of Dulce Leche.