Slow cooker chili mac. It's cold outside, but bring the warmth (and the great smells!) with this easy beef chili recipe.
We all know that comfort food does wonders for the soul. And this slow cooker chili is the perfect winter dish to make your worries drift away.
What are the different variations of slow cooker chili mac?
There are many variations of slow cooker chili mac that you can make. One variation is to use ground beef instead of ground turkey. Another variation is to leave out the green chilis and use black beans instead. And another variation is to use bacon instead of pepperoni.
Variation 1: Ground Beef
Ground beef makes for a heartier, meatier chili mac dish. You can use this recipe as it stands or make it your own by adding different additional ingredients like crushed red pepper flakes, garlic, cumin, oregano, or cilantro.
Variation 2: Black Beans
Add black beans to the slow cooker with everything else for a spicier dish with added protein from legumes and fiber from the beans themselves! For a vegetarian dish, omit the beef.
How can a slow cooker be used for this chili?
A slow cooker is a kitchen appliance that is often used as a crockpot. With this method, you can cook your dish at a low temperature and for a long time. This way you will enjoy a dish with the texture of meat that is cooked slowly over time.
Slow cookers are typically used to make slow-cooked dishes such as stews, soups, and ragouts. This also includes dishes like chili mac and spaghetti sauce.
What are the ingredients you need for slow cooker chili mac?
The ingredients you need for this recipe are ground beef, onion, green pepper, garlic, tomato sauce, chili powder, cumin, salt, and pepper.
Slow Cooker Chili Mac Recipe
You may also like:
Slow Cooker Creamy Cauliflower Potato Soup
Air Fryer Golden Bananas with Chocolate Sauce Recipe
The Perfect Thanksgiving Pecan Pie Recipe
Slow Cooker Baked Potatoes Recipe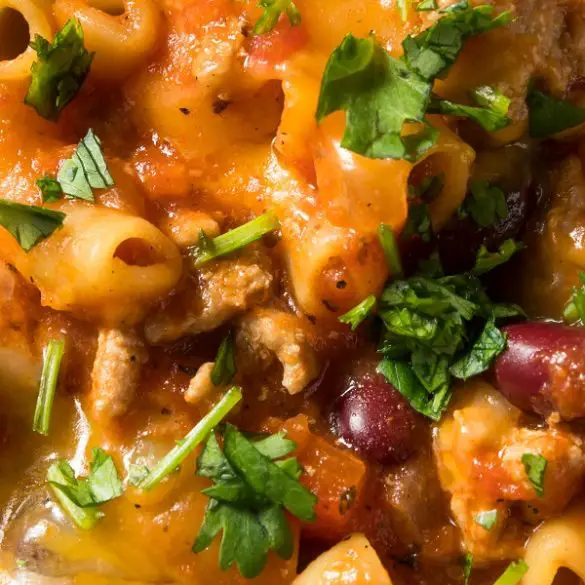 Ingredients
1 pound (480 g) lean ground beef

1 small yellow onion, peeled and chopped

4 cloves garlic, peeled and minced

2 cups (500 ml) beef broth

1 tablespoon chili powder

1/2 teaspoon ground cumin

1 red bell pepper, cored and chopped

30 oz (900 ml) can chili beans in chili sauce

15 oz (450 ml) can diced tomatoes

salt and freshly ground black pepper, to taste

1/2 pound (240 g) uncooked elbow macaroni

desired topping: Cheddar cheese, sour cream, green onions, etc
Instructions
In a large nonstick skillet, brown ground beef and drain grease.
Transfer browned beef to a slow cooker. Add remaining ingredients, except the pasta.
Cover the pot and cook in a low-heat setting for 8 hours.
In the last 15 minutes to cook, stir in uncooked pasta.
Turn off the slow cooker. Remove cooked chili mac from the cooker and transfer to a serving plate.
Serve hot.