Air fryer apple chips recipe. Cook healthy, easy, and yummy snacks in an air fryer.
Air Fryer Apple Chips Recipe
You may also like:
Slow Cooker Creamy Cauliflower Potato Soup
Instant Pot Homemade Curd Cheese Recipe
Instant pot Egyptian Koshari Rice Recipe
Air Fryer Blackberry Cobbler Recipe
Air Fryer Bread Pudding Recipe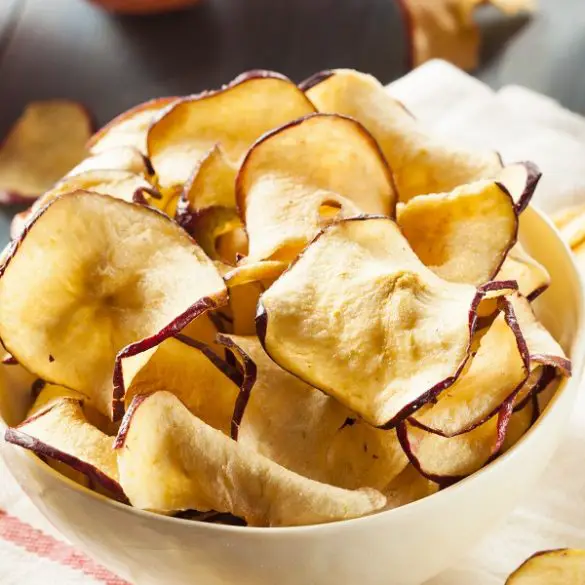 Ingredients
1 large apple

1/4 teaspoon ground cinnamon

a pinch of salt
Instructions
Preheat your air fryer to 350º F (175º C) for 5 minutes.
Using a mandolin, slice the apple into thin slices. Place slices in a large bowl.
Sprinkle with ground cinnamon and salt, coating apple well.
Working in batches, fry apple slices at 350º F (175º C) for 8-10 minutes, turning and flattening them every 4 minutes.
Remove fried apple chips from the fryer and transfer them to a wire rack. Allo cool and crisp for about 15-20 minutes.
Repeat the process with the remaining apple slices.
Enjoy!