Air fryer blackberry cobbler recipe. Learn how to cook yummy blackberry cobbler in an air fryer.
You may also like:
Air Fryer Bread Pudding Recipe
Air Fryer Roasted Corn on the Cob Recipe
Air Fryer Bruschetta with Tomato and Basil
Air Fryer Breaded Cauliflower Tater Tots
Air Fryer Scalloped Potatoes Recipe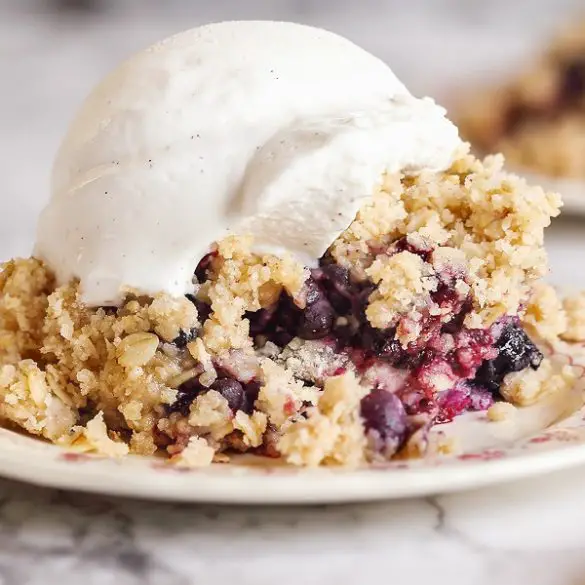 Ingredients
For the Fruit Layer:

2 cups fresh blackberries

1/4 cup granulated sugar

1/4 cup brown sugar

1/3 cup all-purpose flour

1 tablespoon freshly squeezed lemon juice

For the Topping Layer:

1½ cups quick oats

1 cup all-purpose flour

1 cup brown sugar

1 teaspoon salt

1 cup unsalted butter
Instructions
In a small mixing bowl, combine the blackberries, brown sugar, all-purpose flour, lemon juice, and granulated sugar.
Mix well. Allow to sit for about 10 minutes.
Grease a ramekin with nonstick cooking spray. Add the blackberry mixture to the greased ramekin.
In a small mixing bowl, combine oats, all-purpose flour, brown sugar, salt, and unsalted butter, Stir well, then sprinkle the oat mixture on the blackberry mixture.
Place in the air fryer basket. Fry at 330º F (165º C) for 8-10minutes, or until golden.
Remove fried blackberry cobbler from the fryer and transfer to a serving plate.
Allow to cool before serving. Serve with ice cream, if desired.