Air fryer breaded cauliflower tater tots. Learn how to cook yummy breaded cauliflower florets in an air fryer.
Air Fryer Breaded Cauliflower Tater Tots
You may also like:
Air Fryer Scalloped Potatoes Recipe
Air Fryer Cheese Stuffed Potatoes
Air Fryer Egg Stuffed Potatoes Recipe
Instant Pot Baked Baby Potatoes Recipe
Air Fryer Vegetarian Sweet Potatoes Recipe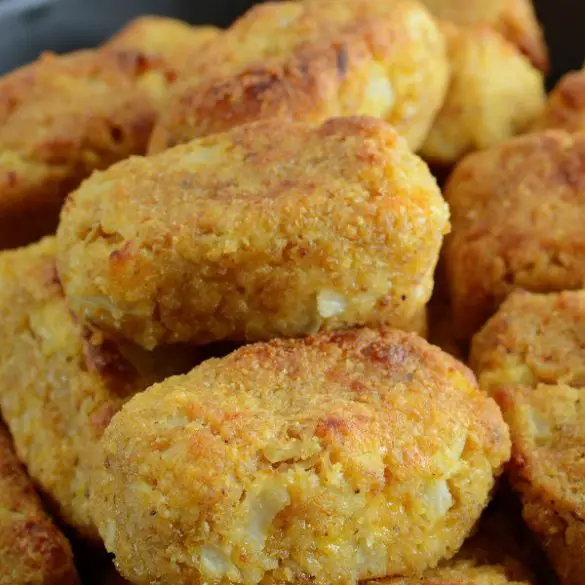 Ingredients
1 cauliflower, cut into small florets

1 cup grated Parmesan cheese

1 large egg, beaten

1/3 cup breadcrumbs

1 teaspoon kosher salt

1/2 teaspoon garlic powder

chopped fresh parsley, for serving
Instructions
Fill a large pot with 1 inch (2.5 cm) of water. Add cauliflower florets, cover, and cook on medium heat for 15-18 minutes, or until they are fork-tender.
Remove the pot from the heat, drain the water, then transfer cooked cauliflower florets to a food processor. Process until it is riced.
Remove riced cauliflowers from the processor and transfer to a clean kitchen towel, set aside and allow to cool, then squeeze out any liquid.
In a large mixing bowl, combine riced cauliflowers, grated Parmesan cheese, beaten egg, breadcrumbs, salt, and garlic powder. Stir well to combine.
Scoop out 1 tablespoon of the cauliflower mixture and form it into a tight ball. Pinch the sides of the ball, to create a long oval shape. repeat with the remaining mixture.
Grease the air fryer basket with olive oil spray. Add breaded and seasoned cauliflowers to the greased basket.
Fry at 400º F (200º C) for 10-12 minutes, or until Tater Tots is golden brown and crispy.
Remove fried tater Tots from the fryer and transfer them to a large bowl. Sprinkle with chopped fresh parsley.
Serve hot.