Air fryer scalloped potatoes recipe. Learn how to cook delicious scalloped potatoes (potatoes au gratin) in an air fryer. Easy and delicious! Cook it in an instant pot-Instant Pot Scalloped Potatoes
Air Fryer Scalloped Potatoes Recipe
You may also like:
Air Fryer Cheese Stuffed Potatoes
Instant Pot Baked Baby Potatoes Recipe
Air Fryer Egg Stuffed Potatoes Recipe
Air Fryer Accordion Potatoes Recipe
Air Fryer Vegetarian Sweet Potatoes Recipe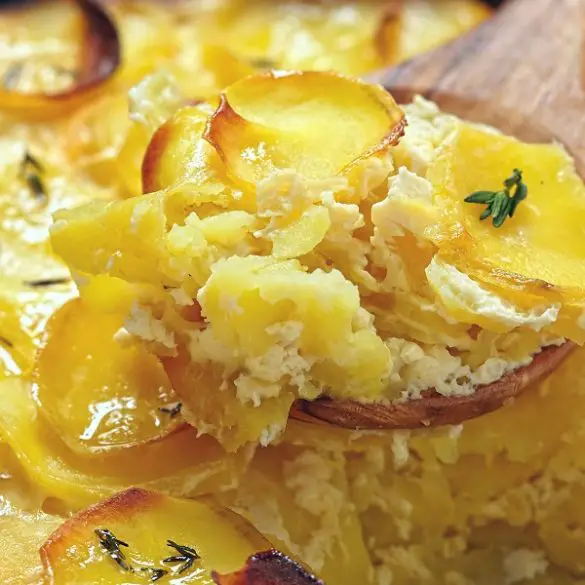 Ingredients
3 large Russet potatoes, peeled and sliced

1/2 cup (125 ml) milk

1/2 cup (125 ml) cream

1/3 cup shredded Parmesan cheese

1 teaspoon minced garlic

1/2 teaspoon ground nutmeg

1 teaspoon freshly ground black pepper

1/2 cup grated Gruyere cheese
Instructions
In a large mixing bowl, combine all ingredients, except Gruyere cheese. Toss well to coat potatoes.
Pour them into greased pan, then level them out with a spoon.
Place in the air fryer basket. Fry at 330º F (165ºC) for 20 minutes.
Sprinkle grated Gruyere cheese over the fried potatoes. transfer to a serving plate.
Serve hot.