Air fryer glazed donuts recipe. Learn how to cook yummy desserts in an air fryer.
Air Fryer Glazed Donuts Recipe
You may also like:
Air Fryer Jewish Blintzes Recipe
Slow Cooker Apple Jelly Recipe
Air Fryer Texas Garlic Bread Recipe
Air Fryer Shishito Peppers Recipe
Instant Pot Lentil Soup Recipe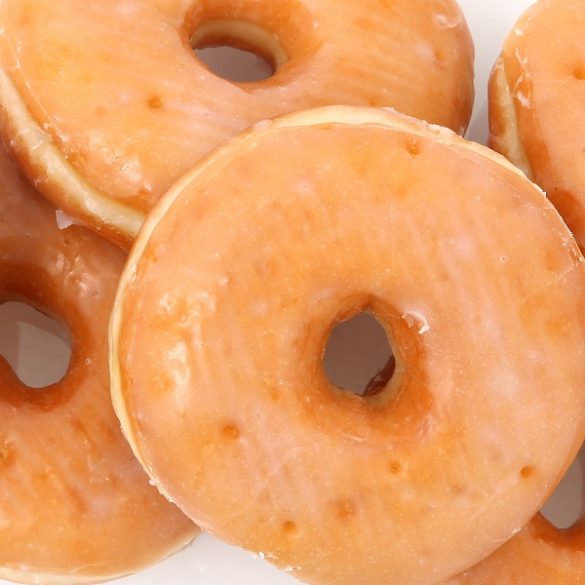 Ingredients
1/2 cup (125 ml) warm water

1/4 cup (60 ml) warm milk

2 teaspoons dry active yeast

1/3 cup plus 1 tablespoon granulated sugar

1/4 cup (60 ml) melted unsalted butter

1 large egg, beaten

1 egg yolk

1 teaspoon vanilla extract

2 cups all-purpose flour

1/2 teaspoon salt

2 cups powdered sugar

1/4 cup (60 ml) milk

1 tablespoon corn syrup

1 teaspoon vanilla extract
Instructions
In a large measuring cup, combine 1/2 cup (125 ml) warm, 1/4 cup (60 ml) warm milk, dry active yeast, and 1 tablespoon granulated sugar.
Mix well and let the yeast mixture froth up and rise for about 5 minutes.
In a stand mixer, combine 1/3 cup granulated sugar, melted unsalted butter, beaten egg, egg yolk, 1 teaspoon vanilla extract, all-purpose flour, and salt.
Pour the egg mixture into the yeast mixture and pace the hook attachment on. Mix oh low speed until the flour is well incorporated into liquids.
Switch the heat to high and beat for a further 5 minutes.
Remove the dough from the mixer and transfer it to a large grease bowl. Cover with plastic wrap.
Allow the dough to rise for about one hour, or until it doubles in size.
Transfer the dough to a cutting board. Using a rolling pin, roll the dough out about 1/2 inch (1.25 cm) in thickness.
Using the donut cutter, cut out as many donuts as you can. Reshape the scraps, then cut out more donuts.
transfer the cut-out donuts into a baking sheet lined with parchment paper. Cover them tightly and allow them to rise again, for about 20-30 minutes.
Preheat your air fryer to 345 F (170 C) for 5 minutes.
Grease the air fryer basket with nonstick cooking spray. Working in batches, place donuts in a single layer in the greased basket. fry for about 4 minutes. repeat with the remaining donuts.
Remove fried donuts from the fryer and transfer onto a plate lined with paper towels.
For the Glaze:
In a large mixing bowl, combine powdered sugar, milk, corn syrup, and vanilla extract. Mix well.
When the donuts are warm, dip them in the glaze, then let them set on a colling rack.