Air fryer Jewish blintzes recipe. Learn how to cook delicious Jewish blintzes in an air fryer.
Air Fryer Jewish Blintzes Recipe
You may like as well:
Air Fryer Sweet Potato Cubes Recipe
Air Fryer Spanish Potato Wedges Recipe
Air Fryer Texas Garlic Bread Recipe
Air Fryer Crispy Tater Tots Recipe
Air Fryer Cheese Stuffed Potatoes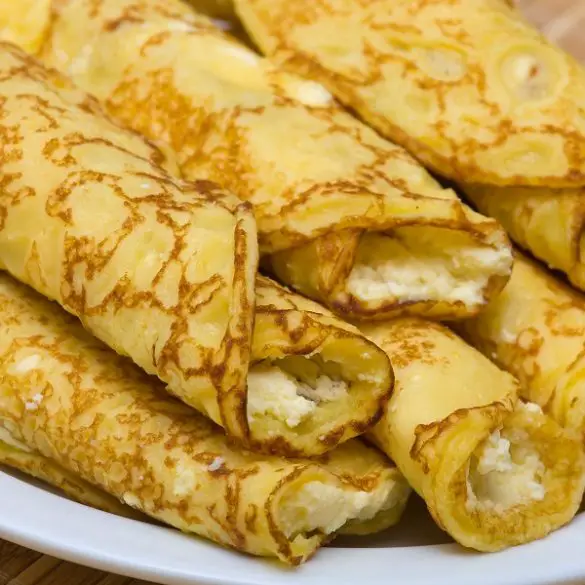 Ingredients
2 (7½ oz (225 g))packages farmer cheese, mashed

1/4 cup (60 ml) cream cheese

1/4 teaspoon vanilla extract

1/4 cup granulated sugar

8 egg roll wrappers

4 tablespoons unsalted butter, melted
Instructions
In a large bowl, combine the farmer cheese, cream cheese, vanilla extract, and granulated sugar. Mix well.
On a clean surface, unfold the egg roll wrappers, then spread 1/4 cup (60 ml) of the filling at the edge of each wrapper, leaving 1/2-inch (1.25 cm) edge uncovering.
Wet the edges of the wrappers with water, then fold the uncovered edge over the filling.
Fold the left and right sides in the center, tucking the edge under the filling. Fold the wrap the filling.
Preheat your air fryer to 400º F (200º C) for 5 minutes.
Brush the wrappers with melted butter, then place them in a single layer in the air fryer basket, seam side down( you need to work in batches).
Fry at 375º F (190º C) for 10 minutes, or until golden brown.
Serve hot.