Air fryer sweet potato cubes recipe. Learn how to cook spicy and delicious sweet potatoes in an air fryer.
Air Fryer Sweet Potato Cubes Recipe
You may also like:
Air Fryer Cheese Stuffed Potatoes
Instant Pot Baked Baby Potatoes Recipe
Air Fryer Egg Stuffed Potatoes Recipe
Air Fryer Accordion Potatoes Recipe
The Best Instant Pot Mashed Potatoes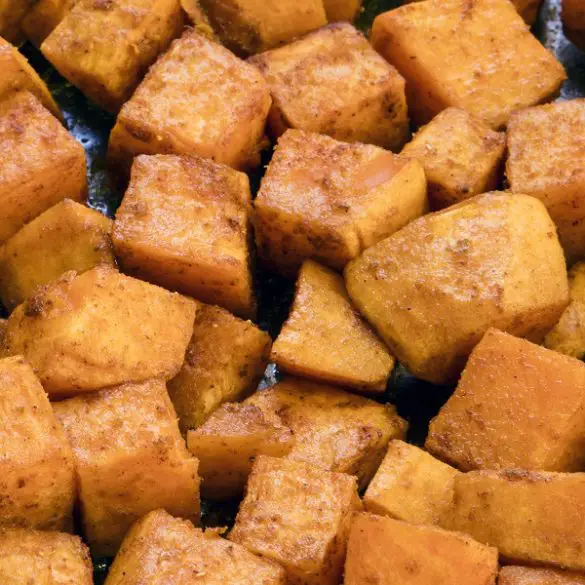 Ingredients
2 medium sweet potatoes, peeled and cubed

2 tablespoons olive oil

1/2 teaspoon onion powder

2 cloves garlic, peeled and crushed

2 teaspoons smoked paprika

1/2 teaspoon red chili flakes

2 teaspoons ground cumin

1/4 teaspoon freshly ground black pepper

pinch of salt

freshly squeezed juice of 1 lemon
Instructions
In a medium mixing bowl, combine the spices, olive oil, and lemon juice.
Stir well. Add cubed sweet potatoes to the spicy mixture and toss them until well coated.
Transfer seasoned potatoes to the air fryer basket.
Fry at 400 F (200 C) for 12 minutes, shaking once halfway through.
Remove fried sweet potatoes from the fryer and transfer them to a serving plate.
Serve hot.