Air fryer accordion potatoes recipe. Learn how to cook yummy potatoes in an air fryer.
I used my Kyvol Air Fryer, to make this recipe.
Air Fryer Accordion Potatoes Recipe
You may like as well:
Air Fryer Balsamic Brussels Sprouts
Air Fryer Crispy Zucchini Fries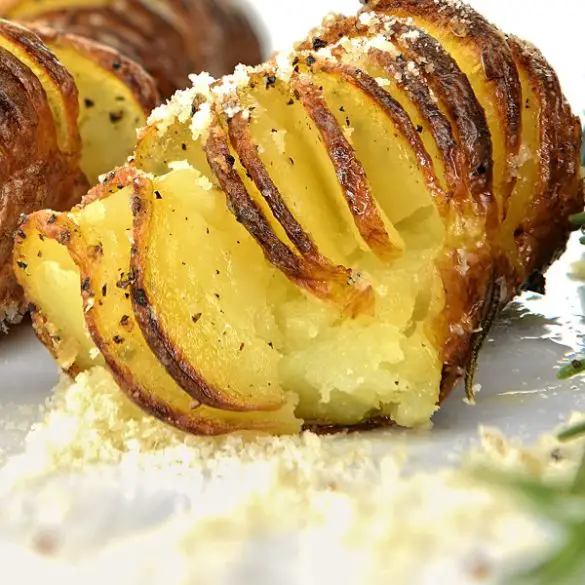 Ingredients
4 medium Yukon Gold, potatoes, unpeeled

3 tablespoons unsalted butter, melted

1 tablespoon olive oil

3 cloves garlic, peeled and crushed

1/2 teaspoon paprika

salt and freshly ground black pepper, to taste

1 tablespoon chopped fresh parsley
Instructions
Preheat your air fryer to 400º F (200º C) for 5 minutes.
Slice potatoes evenly across entire lengths, making sure the bottom of potatoes stills intact (leave approximately 1/2-inch form the bottom).
In a small mixing bowl, combine melted butter, olive oil, garlic, and paprika.  Mix well.
Brush potatoes with butter mixture. Season with salt and black pepper.
Place seasoned potatoes in the air fryer basket. Set the temperature to 350º F (175º C). Fry for 15 minutes.
Brush potatoes with remaining butter mixture. Cook for a further 15 minutes or until potatoes are cooked through.
Sprinkle with chopped fresh parsley. Serve hot.