Air fryer stuffed mushrooms recipe. Learn how to cook yummy cheese-stuffed mushrooms in an air fryer.
You may like as well:
Air Fryer Balsamic Brussels Sprouts
Air Fryer Cheese- Stuffed Shells
Air Fryer Crispy Zucchini Fries
Air Fryer Vegetarian Sweet Potatoes
Air Fryer Stuffed Mushrooms Recipe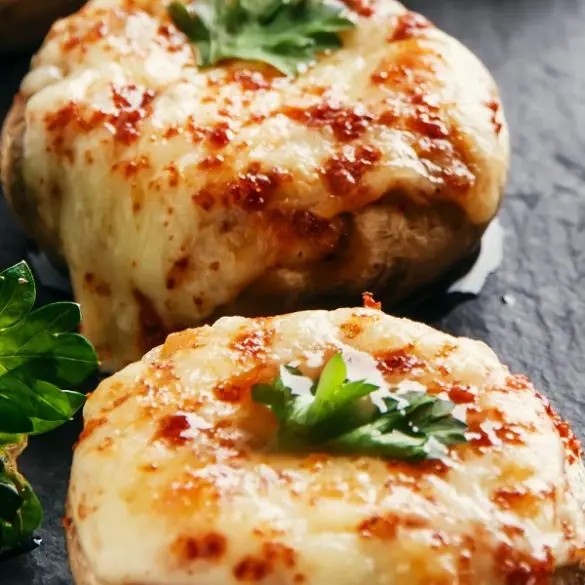 Ingredients
16 large mushrooms, stems removed

1 tablespoon (15 ml) salted butter

2 cloves garlic, peeled and minced

1/2 cup minced yellow onion

4 oz (120 ml) cream cheese

1/4 teaspoon dried thyme leaves

1 teaspoon (5 ml) Worcestershire sauce

1 tablespoon chopped fresh parsley

1/4 cup grated Parmesan cheese, divided

freshly ground black pepper, to taste
Instructions
Finely dice mushroom stems.
In a small pan, combine diced mushroom stems, garlic, onion, and butter. Stir well.
Cook over medium heat until onion is tender. Allow to cool completely.
In a large mixing bowl, combine onion mixture, cream cheese, thyme,  Worcestershire sauce, parsley, black pepper, and 3 tablespoons grated Parmesan.
Fill mushrooms with the cream cheese mixture. Top with remaining Parmesan.
Preheat your air fryer to 400 F (200 C) for 5 minutes.
Place stuffed mushrooms in the air fryer basket. Cook at 380 F (190 C) for 7-9 minutes.
Serve hot.