Air fryer cheese-stuffed shells recipe. Learn how to cook yummy stuffed shells with tomato sauce in an air fryer.
I used Kyvol air fryer to make this recipe. Also, I recommend to use Homemade Marinara Sauce
Air Fryer Cheese-Stuffed Shells Recipe
You may like as well:
Air Fryer Vegetarian Tso's Cauliflower
Air Fryer Vegetarian Sweet Potatoes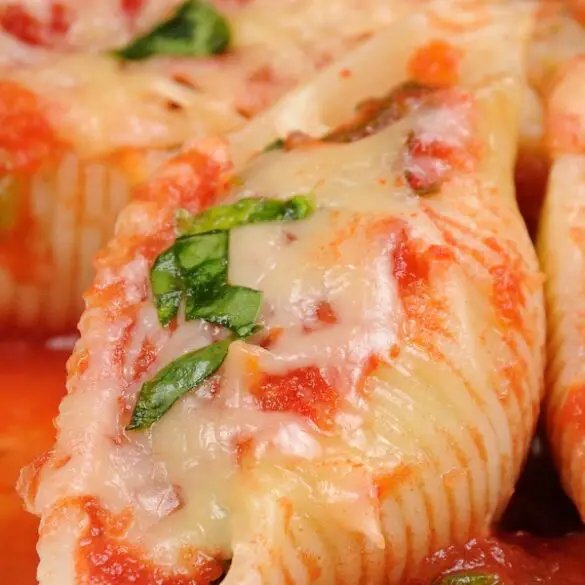 Ingredients
12 oz (360 g) jumbo shells

2 cups ricotta cheese

1 cup shredded Mozzarella cheese

1 tablespoon dried parsley

1 tablespoon Italian seasoning

1 large egg, beaten

3 cups (750 ml) marinara sauce
Instructions
Cook the shells according to packing instructions.
In a small mixing bowl, combine ricotta cheese, 1/2 cup shredded Mozzarella cheese, dried parsley, Italian seasoning, and beaten egg. Stir well.
Spread one layer of marinara sauce on the bottom of your air fryer pan.
Stuff the shells with the cheese mixture and place them on the pan.
Pour the remaining pasta sauce over the shells.
Set the air fryer temperature to 300 F (150 C). Cook for 10-15 minutes or until cheese is melted and sauce is bubbled.
Serve hot.