Slow Cooker stuffed onions recipe. Get cozy by the fire this winter with a batch of these slow cooker stuffed onions. It's a great appetizer that's even better as leftovers.
Benefits of Using a Slow Cooker
Slow cookers are a great way to save time and money on cooking. They are also a healthy alternative to other cooking methods.
A slow cooker is a kitchen appliance that cooks food at a low temperature for an extended period of time. It can be used to cook various dishes, such as soup, stew, chili, rice, beans, and meat dishes. Slow cookers are especially popular during the winter months when it's too cold outside to use an oven or stovetop for cooking.
What is Stuffed Onions?
Stuffed onions are a dish that is made of onions, which are cooked in a slow cooker and then stuffed with mushrooms, tomatoes, nuts, and seasonings.
Stuffed onions are typically made from Vidali or other sweet onions. The mushrooms are mixed with pine nuts, tomatoes, salt, and pepper before being stuffed inside the onion. They can be topped with cheese or breadcrumbs for added texture. These ingredients are then placed into a slow cooker on low heat for 4 hours to allow the flavors to blend together before serving them up hot out of the pot!
How to Make Slow Cooker Stuffed Onions
Slow cookers are perfect for cooking onions because they use a low temperature and the onions will not brown.
The key to this recipe is to cook them slowly and to keep the onions from drying out.
You can also add other ingredients like bacon if you want.
5 Healthy Ways to Use your Slow Cooker
Slow cookers are a perfect way to make healthy meals. The recipes below will show you how to take advantage of your slow cooker and make delicious, healthy meals.
1). Slow Cooker Chicken Curry with Vegetables: This is one of the best slow cooker recipes for beginners. It's easy and simple to make, but it tastes delicious and has a lot of flavors.
2). Slow Cooker Beef Stew: A hearty dish that will taste great on a cold winter evening.
3). Slow Cooker Beef Stroganoff: Tasty beef stroganoff that can be served over rice or pasta.
4). Slow Cooker Mexican Quinoa Pilaf: A filling dish with quinoa, black beans, corn, and tomatoes that can be served as a side dish or as the main course with some grilled chicken on top.
5). Slow Cooker Pot Roast: Delicious pot roast recipe is made in the crockpot for an easy meal.
Slow Cooker Stuffed Onions Recipe
You may also like;
Slow Cooker Candied Yams Recipe
Slow Cooker Turkey Meatloaf Recipe
Instant Pot Sauerkraut Soup Recipe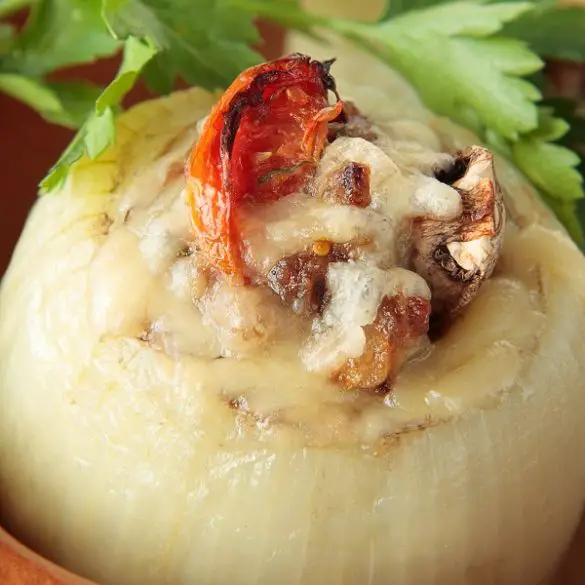 Ingredients
3 medium Vidalia onions, peeled

1/2 cup breadcrumbs

1/2 cup crumbled Goat cheese

4 sun-dried tomato halves, chopped

1/2 cup sliced mushrooms

2 tablespoons pine nuts

2 cloves garlic peeled and minced

1/2 teaspoon dried thyme leaves

1/4 teaspoon salt

1/4 teaspoon freshly ground black pepper

1 egg white

1/2 cup (125 ml) hot chicken broth
Instructions
Peel onions and hollow out in the center, leaving about a 1/2-inch (1.25 cm) shell at the base of the onion.
In a mixing bowl, combine all ingredients, except cheese and chicken broth.
Stuff onions with mushroom mixture.
Pour chicken broth into the cooker.
Place onions in a slow cooker.
Cover the pot and cook on a low-heat setting for 6-8 hours, adding cheese during the last 15 minutes.