Air fryer chocolate donuts recipe. Learn how to make a delicious recipe that everyone is sure to love with this easy Chocolate Donuts. This recipe is easy and delicious. Air fryers are the latest trend in cooking, and people love these delicious donuts that they can enjoy guilt-free.
The Benefits of Using an Air Fryer for Donuts
Air fryers have become a popular appliance in the kitchen. They are used to cook healthier food with less oil, and they can be used to make donuts too. Air fryers are a great way to enjoy a donut without the guilt of eating unhealthy.
The benefit of using an air fryer for donuts is that it cooks them at lower temperatures, which leaves them crispy on the outside and moist on the inside. This means there is no need to worry about getting fat or sugar overload from your favorite breakfast treat!
The Best Chocolate Donuts Recipe
With the best air fryer chocolate donuts recipe, you can make your favorite donuts in less time with less mess.
The best air fryer chocolate donuts recipe is a great way to make delicious and easy-to-make donuts. This is a great recipe for people who want to eat healthier but still want to enjoy their favorite dessert.
There are many reasons why someone would want to try this recipe. It's quick, easy, and doesn't require any cake mix or frying oil.
How healthy are chocolate donuts?
The air fryer chocolate donuts are healthy because it doesn't use any oil and they are baked in the oven instead of deep-fried in an oil bath.
Air Fryer Chocolate Donuts Recipe
You may also like:
Slow Cooker Candied Yams Recipe
Instant Pot Stuffed Cabbage Rolls
Slow Cooker Turkey Meatloaf Recipe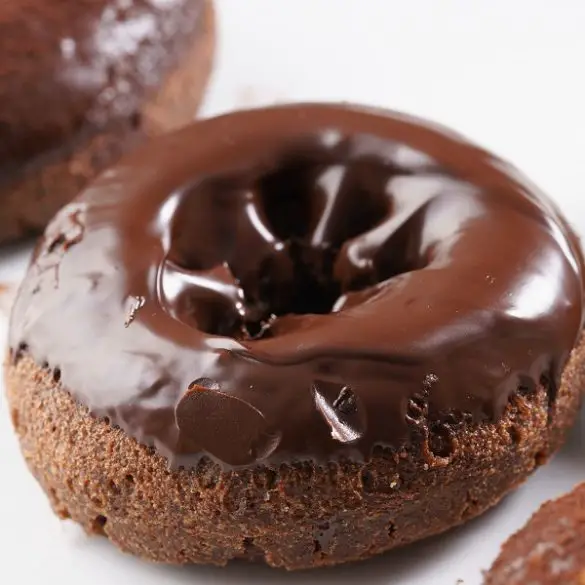 Ingredients
1 cup almond flour

1/4 cup erythritol

2 teaspoons baking powder

2 tablespoons cocoa powder

1/2 teaspoon xanthan gum

4 large eggs, beaten

1/2 teaspoon vanilla extract

2 tablespoons whipped cream

For the Chocolate Glaze:

1/2 cup sugar-free chocolate chips

1/2 tablespoon butter
Instructions
Preheat your air fryer to 350º F (175º C).
In a large mixing bowl, combine all dry ingredients. Stir well.
Mix in the wet ingredients and stir until well combined.
Transfer the mixture to a piping bag and pipe it into the silicon donut molds.
Transfer molds to the air fryer basket. Fry at 350º F (175º C) for 8 minutes.
Allow donuts to cool, before removing them from the molds.
To Make the Chocolate Glaze:
In a small mixing bowl, combine chocolate chips and butter, Stir and microwave for 30 seconds.
Once the donuts are cooled, dip each one into chocolate glaze and transfer it to a cooling rack until set.
Enjoy!