Slow cooker candied yams recipe. The best candied yams recipe is made with just a few ingredients. Crispy and soft, these candied yams are the perfect easy Thanksgiving side dish.
Let's explore this recipe and see what is in store for us.
Candied yams are usually made with margarine, cornstarch, and brown sugar. The sweet roasted flavor of the yams is a perfect substitute for pumpkin pie during the holidays. This recipe has a few additional ingredients to make it special – butter, eggs, salt, and sugar. We will need about 2 hours for cooking time in total.
How to Use a Slow Cooker for Candied Yams Recipe
A slow cooker is a great appliance for cooking candied yams. It can cook the food over a long period of time, allowing the flavors to develop. The crock pot also helps keep the yams from sticking to the bottom of the pot, which can happen with an oven.
It is important to note that not all slow cookers work in the same way. Some have hot spots and may need stirring more often than others.
What's the Difference Between Candying and Baking?
Candied yams and sweet potatoes are not the same. The difference is that candied yams are boiled in a sugary syrup, whereas sweet potatoes are boiled in water with sugar.
The first step for making candied yams is to peel the potatoes and cut them into 1-inch cubes. Boil them in sugar syrup for about 20 minutes, or until they are fork-tender. Remove from heat, drain off the syrup and let cool to room temperature before serving.
How to Serve Candied Yam Recipe with Your Favorite Thanksgiving Side Dish
The Thanksgiving table is a feast of food, but it is also the perfect place to experiment with new flavors. One of the most popular candied yams recipes on the internet is made with brown sugar, butter, and cinnamon. This sweet and savory dish is usually served as a side dish to other dishes like turkey or ham.
A traditional Thanksgiving dinner usually consists of turkey, ham, cranberry sauce, mashed potatoes, green beans, cornbread stuffing, and pumpkin pie. But it doesn't have to be that way! You can add a little twist by serving your favorite candied yam recipe with your favorite Thanksgiving side dish.
Slow Cooker Candied Yams Recipe
You may also like;
Slow Cooker Turkey Meatloaf Recipe
Instant Pot Stuffed Cabbage Rolls
Slow Cooker Lentil and Vegetable Stew
Instant Pot Sauerkraut Soup Recipe
Slow Cooker Chicken Biryani Recipe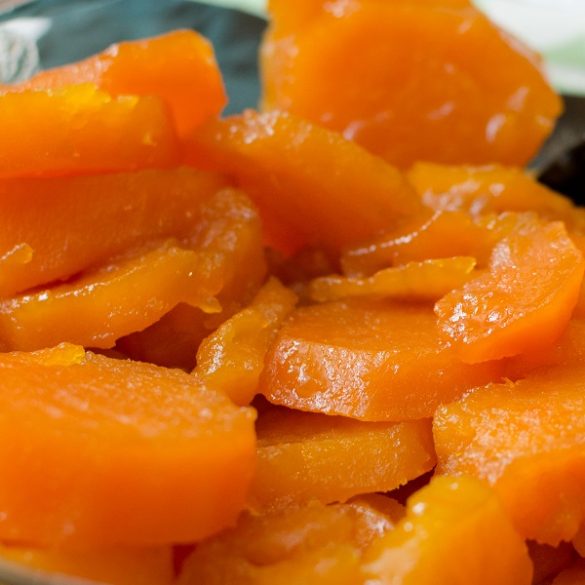 Ingredients
2 pounds (960 g) sweet potatoes, peeled and sliced

2/3 cup packed light brown sugar

salt and freshly ground black pepper, to taste

2 tablespoons cold margarine, cubed

1/2 cup (125 ml) water

2 tablespoons cornstarch
Instructions
layer sweet potatoes in a slow cooker, sprinkling each layer with brown sugar, salt, and black pepper and dotting with margarine.
In a mixing bowl, combine cornstarch and water. mix until cornstarch is dissolved.
Pour the cornstarch mixture over the top of the potatoes.
Cover the pot and cook on a low-heat setting for 3 hours.
Increase the heat to high and cook for a further 1 hour, or until potatoes are tender.
Enjoy!