Instant pot chicken risotto recipe. You can quickly make a delicious and healthy chicken risotto with an instant pot! The best part is that you don't have to keep stirring it on the stove – it will be ready in no time!
Saute the veggies, pan-sear the chicken, and add all the remaining ingredients to your Instant Pot liner. You let your Instant Pot do its magic. It's that easy!
Risotto is a type of Italian rice dish that is made creamy with constant stirring during cooking. It doesn't really matter what type of broth you use, as long as you use it to make a classic Italian dish. Start with one ladleful and stir constantly. Keep adding ladles until the liquid is at the desired thickness.
All you need to do with this Italian risotto is to drop the ingredients into the rice and that's about it.4
How to Prepare Chicken Risotto
The process is the same as when making traditional white long-grain rice, but don't worry: it's just as delicious. Using an electric instant Pot, start with sautéing onions and mushrooms. It is important to quickly brown the diced and seasoned chicken. You can leave the onion and mushrooms in while you brown the chicken. Once browned, move the onion and mushrooms to one side of the pot. You can either take out cooked mushrooms and onions (to give you more space).
To generally follow the steps for this dish start by browning the meat and then taking it out of the pan. Next, saute your onion and mushrooms. As always, please feel free to experiment with variations in order and methods that work best for you.
When the cooking is complete, turn off the saute function. Add the rest of the ingredients and mix them well.
Cover the lid with a pot holder and make sure it is sealed tightly. Turn on the pot and cook in manual mode for 3 minutes. Once the pressure cooker is done cooking, set a timer for 7 minutes and release the steam manually afterward.
Want to make this easy pressure cooker chicken risotto taste like the Italian original? Stir in butter and grated Parmesan cheese. Guys, those two ingredients are key to this dish. Don't forget them! I also sprinkled some chopped chives over. However, this is optional, so if you can't do it don't worry about it!
I'm a big fan of Italian rice because it's got such a light, fluffy texture while still being able to soak up all that extra sauce. Honestly, if you tried it once I don't think you could go back to anything else. I recommend using a variety of rice for your Instant Pot chicken risotto. The paella rice I usually use for Paella Valenciana works well.
Ultimately, look for short-grain rice in case you can't find any of the ones I mentioned earlier.
Instant Pot Chicken Risotto Recipe
You may also like:
Air Fryer Chocolate Chip Muffins Recipe
Instant Pot Sweet Potato Gratin Recipe
Crockpot Creole Garlic Shrimp Recipe
Air Fryer Sweet Potato Tots Recipe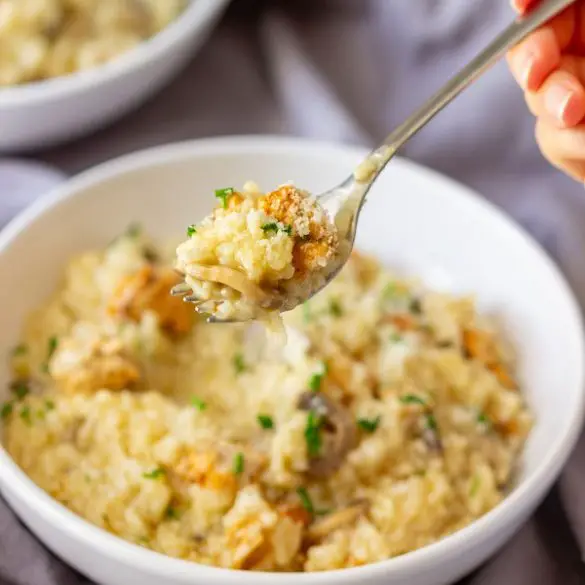 Ingredients
To Make Risotto:

3 tablespoons extra-virgin olive oil

1 medium yellow onion, peeled and finely chopped

7 oz (210 g) button mushrooms, sliced

1 pound (480 g) boneless and skinless chicken breasts, diced

2 cups risotto rice

4 cups (1 L) chicken broth

Seasoning:

1 teaspoon salt

3 teaspoons dried rosemary leaves

2 teaspoons dried oregano

2 teaspoons paprika

1/4 teaspoon freshly ground black pepper

Other Ingredients:

1½ oz (45 g) unsalted butter

3 oz (90 grams) grated Parmesan cheese

fresh chives
Instructions
Heat 2 tablespoons of olive in an electric instant pot turned to saute mode.
Add chopped onion and saute, stirring occasionally, until translucent. Stir sliced mushrooms and continue cooking and stirring for a further 5 minutes.
In a large mixing bowl, combine diced chicken and all seasoning. Mix well.
Remove cooked onions and mushrooms from the cooker and set them aside.
Pour in the remaining olive oil. Add chicken pieces to the hot oil. Brown the meat, then turn off the saute mode and deglaze the pot with some chicken broth.
Return cooked onions and mushrooms to the cooker, as well as the chicken. Add the rice and remaining chicken broth. Stir well.
Cover the pot and lock the lid. Set the machine to cook at high pressure. set the timer to cook for 3 minutes.
Using the Quick Release method, bring pressure to normal. carefully unlock and open the lid. Stir in the butter and grated Parmesan. Sprinkle with chopped chives.
Serve hot.