Instant pot sweet potato gratin recipe. Making a sweet potato gratin in an instant pot is as easy as one-two-three, and it tastes every bit as delicious and flavorful! Sweet potatoes are rich, mild sauced, layered, and then topped with cheese.
Attention, guys. Sweet potatoes are groovy, right? Well, I hope to change your mind because my Instant Pot sweet potato gratin is coming next! Try this creamy pressure cooker sweet potato gratin with your favorite potatoes and see which one you like best.
Helpful Tips on How to Cook a Sweet Potato Gratin in Your Instant Pot.
Place the rack inside the inner pot and then place the springform inside – add tin foil in order to prevent any moisture from seeping through.
This Instant Pot sweet potato gratin is a quick and easy dish to make. Start off by slicing your sweet potatoes really thin.
You don't need a mandolin to make this appetizer – just use a knife. Slice them as thin as you can without the pieces falling apart.
After you have done this, season them with salt, pepper, and dried garlic. Give them a good mix! You want each slice to have some seasoning on it.
Great! Now it's time to make the creamy white sauce. It usually takes about 5 minutes to make. Get a small or medium saucepan and pour olive oil in. Let it heat up before adding all-purpose flour. Continue stirring until well combined.
Make sure to add the cream while stirring constantly and heat it until it starts to thicken, then stir continuously. When it reaches this point, turn the heat down and add in the cheese and butter. You can always taste it and see if it needs more salt.
I used a 7-inch round cake pan/18cm wide and a 3.5-inch deep springform pan/9cm deep for this Instant Pot gratin. Cover the bottom of a cake pan or dish with enough potatoes. I usually do 2-3 layers of sweet potatoes before applying the white sauce.
Then I repeat this again and again until I end up with three layers of sweet potatoes and three layers of white sauce. There should also be one layer of cheese (as the top layer)
This I cover with foil to stop any steam coming out of the gratin and making it too wet. You can then build your pressure cooker by filling it with water and a steaming rack, then placing the springform pan on top.
Close the pot and lock the lid. Make sure to set the timer to 30 minutes by turning both knobs and pushing it in.
Instant Pot Sweet Potato Gratin Recipe
You may also like:
Crockpot Creole Garlic Shrimp Recipe
Air Fryer Indian Batata Vada Recipe
Air Fryer Sweet Potato Tots Recipe
Instant Pot Chinese Rice Zongzi Recipe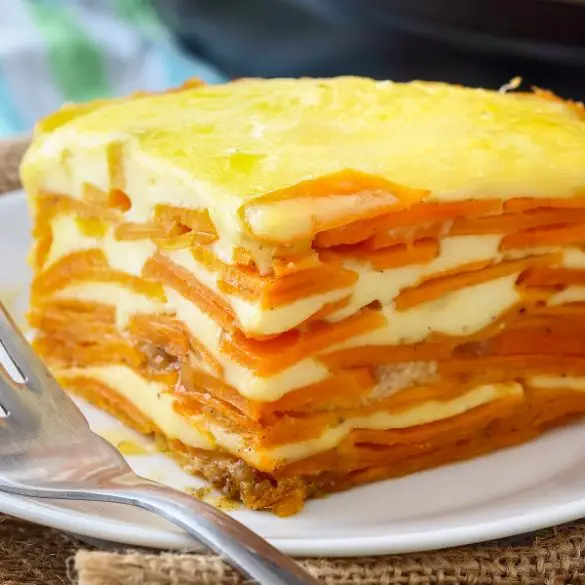 Ingredients
1½ pounds (720 g) of sweet potatoes, washed, peeled, and thinly sliced

1 teaspoon salt

1/4 teaspoon freshly ground black pepper

1 tablespoon garlic powder

3 tablespoons extra-virgin olive oil

2 tablespoons all-purpose flour

2 cups (500 ml) heavy cream

5½ oz (155 g) grated Cheddar cheese

1 tablespoon unsalted butter
Instructions
In a large mixing bowl, combine sweet potatoes, salt, black pepper, and garlic powder.
Mix well and set aside.
To Make the Creamy Sauce: In a small saucepan, heat the olive oil over medium-high heat. Add flour and whisk well. Cook, stirring for about 1 minute.
Stir in the heavy cream, then bring it to a boil and turn off the heat. Mix in grated Cheddar and butter.
Cover the bottom of the springform pan with 2-3 layers of seasoned sweet potatoes. Spread 3 tablespoons of the white sauce over.
Continue until you have no more sweet potato slices and the white sauce is gone. Top with grated cheese.
Cover the pan with tin foil. Put the steaming rack into the Instant Pot. Pour in water, then place the pan inside.
Cover the pot and lock the lid. Set the machine to cook at high pressure. Set the timer to cook for 30 minutes.
Using the natural Release method, bring pressure to normal. Carefully unlock and open the lid.
Remove the pan and allow it to cool.