Air fryer banana rolls recipe. Tired of waiting for your banana bread to come out of the oven? This fast, easy recipe is made in the air fryer! It's a healthy and delicious dessert with minimal clean-up.
What are the Advantages of Using an Air Fryer for Your Banana Rolls?
The use of an air fryer is becoming more and more popular in the world of food. Air fryers are becoming a popular alternative to traditional cooking methods because they cook food faster and in less time.
The advantage of using an air fryer for your banana rolls is that it can save you time, energy, and money. It also cooks food evenly, so you'll have a better chance of getting the perfect golden brown color on your banana rolls.
Air Fryer Tips that Everyone Needs to Know
Air fryers are a great kitchen tool for cooking healthy and quick meals. They are a handy tool that can help you save time and money, while also making your food taste great.
Air Fryer Tips that Everyone Needs to Know – air fryers have been around for years, but they've only recently become popular. This is because they're an easy way to cook healthy foods quickly in the kitchen.
When it comes to buying one, there are many different options available on the market today, so it's important to know what type of air fryer you want before you make your purchase decision.
The best air fryer will depend on what you need it for and how much time you want to spend cooking with it each day. If you're looking for something that can cook multiple types of food in one machine, then you'll want to invest in a complete air fryer.
Cleaning An Air Fryer – If you're looking for a simple, healthy method to cook food, the air fryer is the perfect appliance for you. This appliance makes it easy to throw food into the pan and come back with a delicious treat in under 10 minutes.
Air Fryer Banana Rolls Recipe
You may also like:
Air Fryer Sweet Potato Tots Recipe
Instant Pot Chinese Rice Zongzi Recipe
Instant Pot Egg Fried Rice Recipe
Slow Cooker Cauliflower with Creamy Cheese Sauce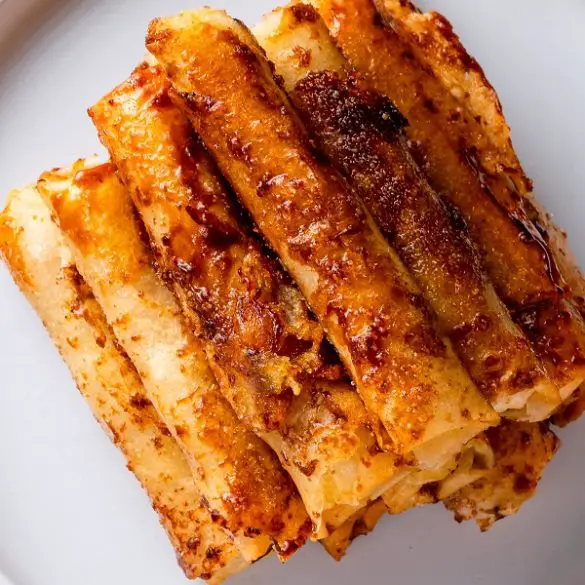 Ingredients
4 ripe bananas, peeled

8 tablespoons brown sugar

8 Lumpia Wrappers

2 tablespoons coconut oil
Instructions
Cut each banana into 4 pieces. Sprinkle with brown sugar. Wrap 2 banana slices in lumpia wrappers, then brush them with coconut oil. Repeat with remaining bananas. Place wrappers in the air fryer basket. Fry at 400º F (200º C) for 15 minutes. Serve warm.