Slow cooker cauliflower with creamy cheese sauce. You're not going to believe this, but I made a slow cooker cauliflower with creamy cheese sauce. Okay, it's true. Seriously though, I really did this time.
The Best Way to Cook Cauliflower in a Slow Cooker
Cauliflower is a versatile vegetable that can be used in many different dishes. However, when it comes to cooking cauliflower in a slow cooker, there are many different methods that you can use.
The best way to cook cauliflower in a slow cooker is by using the roasting method. This ensures that the cauliflower will be tender and juicy.
The roasting method consists of mixing salt and pepper with olive oil before placing the cauliflower on an oven tray lined with parchment paper or aluminum foil. Then, bake at 425 F degrees for twenty minutes or until the cauliflower is tender and browned on all sides.
After baking, place the roasted cauliflower into your slow cooker and add 1 cup of water or broth for every two cups of raw chopped cauliflower before cooking on high for about one hour.
Is cooked cauliflower healthy?
Cauliflower is a vegetable that has been around for millennia. It is one of the most popular vegetables in the world. It is a good source of vitamin C and vitamin K, both of which are antioxidants.
The term "cauliflower" comes from the Latin word caulis, meaning stem or stalk, and flower (cole). The stem or stalk was once thought to resemble a flower because it was so leafy and green.
The cauliflower plant belongs to the family Brassicaceae, which includes other cruciferous vegetables such as cabbage, broccoli, kale, and rutabaga. The leaves are also edible and rich in vitamins A and C.
Slow Cooker Cauliflower with Creamy Cheese Sauce
You may also like:
Air Fryer Easy Salmon Fillets Recipe
Instant Pot Sugar-Glazed Carrots Recipe
Slow Cooker Sweet Potato and Chicken Stew
Instant Pot Coconut Flan Recipe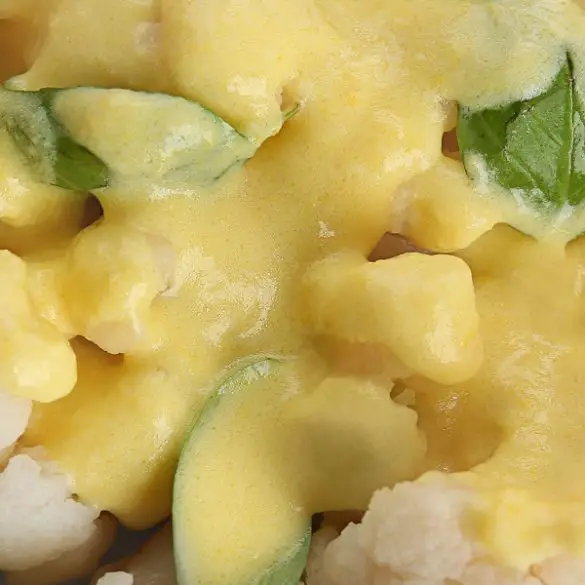 Ingredients
1 medium head cauliflower

1½ cups (375 ml) water

For Creamy Cheese Sauce:

2 tablespoons minced yellow onion

1 tablespoon unsalted butter

2 tablespoons all-purpose flour

1 cup (250 ml) 2% reduced-fat milk

1/2 cup cubed reduced-fat processed cheese

1/4 teaspoon dry mustard

salt and ground white pepper, to taste
Instructions
Place cauliflower in a slow cooker. Pour in the water.
Cover the pot and cook on a high-heat setting for 2 hours.
Turn off the cooker and open the lid. Remove cooked cauliflower from the slow cooker and transfer it to a serving plate.
Spoon the cheese sauce over. Serve hot.
To Make the Cheese Sauce:
Melt the butter in a small saucepan over medium-high heat.
Add minced onion and saute, stirring occasionally for 2-3 minutes. Stir in all-purpose flour and continue cooking for a further 1 minute.
Whisk in milk and bring the mixture to a boil, stirring until thickened, for about b1 minute.
Reduce the heat to low, then stir in the cheese, mustard, salt, and white pepper. Whisk until cheese is melted.
Serve hot.