Air fryer easy salmon fillets recipe. This salmon recipe is quick and easy. No matter if you're looking for a healthy dinner idea or something light to snack on, this salmon will be a hit at your house!
The Benefits of Using an Air Fryer for Cooking
Air fryers have replaced traditional ovens for many people. They are easy to use and don't require any oil or other unhealthy cooking methods. They are also a great way to cook healthy food with less calories and fat.
An air fryer is a type of kitchen appliance that uses hot air circulated by an electric fan instead of the usual method of cooking with heat from an open flame or electricity. Air fryers cook food by circulating hot air around it, quickly heating it through conduction, convection, and radiation.
The benefits of using an air fryer for cooking include:
-Cheap way to cook healthy food -Less time than traditional ovens
-Healthy foods that taste amazing
-No need for oil or other unhealthy cooking methods
-Save money by decreasing or completely eliminating the cost of oil-Easy cleanup: no scrubbing required
How to Make Crispy & Golden Brown Grilled Salmon Fillets with your Air Fryer!
There are many ways to make salmon fillets, but this is a quick and easy way to make salmon fillets that are crispy on the outside and moist on the inside.
You will need: – 3-4 pieces of salmon fillets – 1 tablespoon of vegetable or canola oil – 2 tablespoons of water – Salt & pepper – 1/2 teaspoon paprika (optional) – 1/4 teaspoon garlic powder (optional)- 1/4 teaspoon onion powder (optional)- 1/2 teaspoon salt- 1 tablespoon of lemon juice
How to make it:
1. Season the salmon fillets with salt and pepper, paprika, garlic powder, and onion powder.
2. Heat up your air fryer on low heat (250-275).
3. Add the salmon fillets to the air fryer basket and cook for 12 minutes, or until browned (or however long your air fryer takes).
4. Flip halfway through cooking time and brush with lemon juice on both sides halfway through cooking time.
5. Turn off the air fryer and allow the fish to cool for a few minutes before serving.
Air Fryer Easy Salmon Fillets Recipe
You may also like:
Instant Pot Sugar-Glazed Carrots Recipe
Slow Cooker Sweet Potato and Chicken Stew
Instant Pot Coconut Flan Recipe
Slow Cooker Greek-Style Green Beans
Slow Cooker Green Bean Casserole Recipe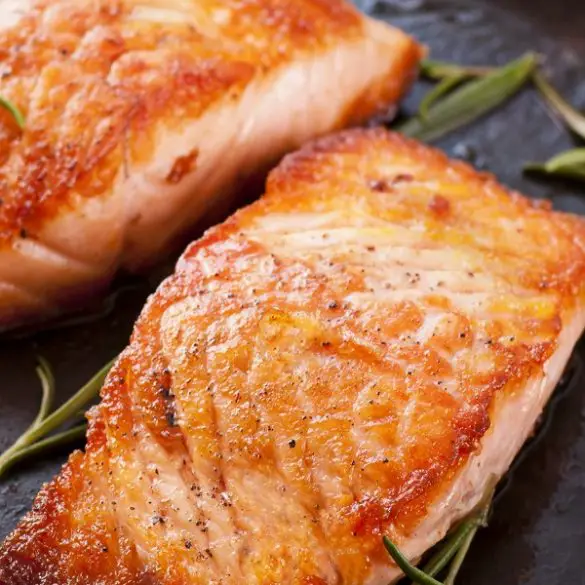 Ingredients
1/4 cup (60 ml) soy sauce

1/4 cup (60 ml) rice wine vinegar

1 tablespoon brown sugar

1 tablespoon olive oil

1 teaspoon mustard powder

1 teaspoon ground ginger

1/2 teaspoon freshly ground black pepper

1/2 teaspoon minced garlic

4 salmon fillets, skin-on
Instructions
In a small mixing bowl, combine the soy sauce, vinegar, brown sugar, mustard powder, ground ginger, black pepper, and minced garlic.
Stir well.
Place salmon fillets, skin-side down, in a shallow dish. Pour the marinade over them. Cover, refrigerate, and marinate for at least 1 hour, making sure the fillets are coated in the marinade.
Spray the air fryer basket with nonstick cooking spray.
Remove marinated fillets from the bowl, shaking off as much marinade as possible. Place the salmon, skin-side down, in the greased basket in a single layer.
Fry at 350º F (175º C) for 15-20 minutes.