Instant pot sugar-glazed carrots recipe. This easy and delicious instant pot carrot recipe is a sweet and savory side dish that will become your go-to. Quickly roast carrots in the instant pot for an easy sweet and savory side dish.
The Instant Pot is one of the most popular electric pressure cookers on the market. The pot has a variety of functions and makes cooking easier and faster than ever.
These carrots are sugar-glazed and they take less than five minutes to make. With this recipe, you can easily replace carrots in your favorite recipes with these delicious carrots.
What Are Some of the Benefits of an Instant Pot?
Instant Pot is a multi-cooker that cooks food in a fraction of the time it would take to cook on the stove. It uses pressure cooking to cook meals quickly and it has several other features that make it easy for people to use.
Instant Pot has been used by millions of people around the world and has proven to be a popular product amongst those who love healthy cooking. The instant pot benefits are many, but they include:
– Quicker cooking times – Instant Pot can cook food in half the time it takes on the stovetop or oven.
– Less mess – No need to dirty up pots and pans with this electric cooker.  No need to worry about scorching your food either!  The instant pot allows you to save time while also saving your kitchen from an unnecessary mess.
– More flavor – The electric cooker allows you to get a variety of different recipes which normally would require multiple pots and pans. It also distributes heat evenly while still cooking food quickly.
– Convenient – Because of its portability, the Instant Pot is perfect for family dinners and traveling!
Instant Pot Sugar-Glazed Carrots Recipe
You may also like:
Slow Cooker Green Bean Casserole Recipe
Instant Pot lentil Sauce Recipe
Slow Cooker Pasta Salad with Eggplants
Slow Cooker Italian Mushroom Risotto Recipe
Instant Pot Steamed Clams Recipe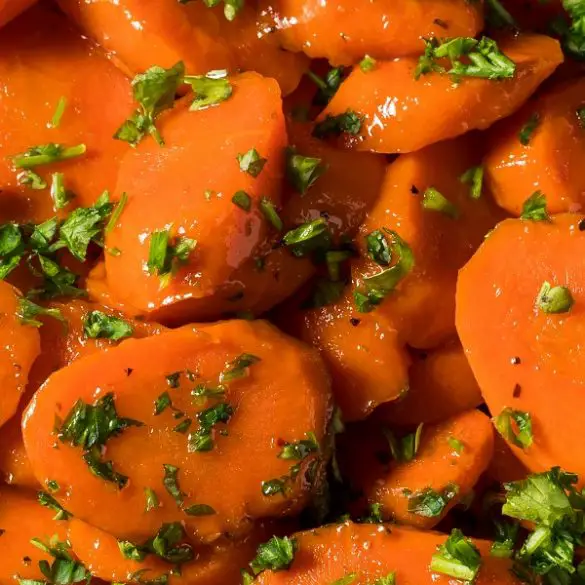 Ingredients
8 large carrots, peeled and sliced

2 tablespoons unsalted butter

1 tablespoon sugar

1 tablespoon unseasoned vinegar

chopped fresh parsley
Instructions
Place sliced carrots in the instant pot, adding enough water that they are submerged by 2 inches (5 cm).
Close the pot and lock the lid.
Set the machine to cook to high pressure. Set the timer to cook for 3 minutes.
Using the Quick Release method, bring pressure to normal. Carefully unlock and open the lid.
Using a colander, drain the carrots.
Melt the butter in the instant pot turned to the browning function. Stir in the sugar and cook, stirring, until it melts and becomes bubbly, for less than 1 minute.
Add carrots and vinegar and toss them over the heat for less than a few minutes to glaze the carrots evenly.
Sprinkle with chopped fresh parsley.