Instant pot lentil sauce recipe. This Lentil Sauce is an easy, quick, and healthy side dish for all your favorite meals. Serve over rice or pasta for a complete meal in minutes.
5 Amazing Health Benefits of Using an Instant Pot
Instant Pot is a multi-functional appliance that helps people to cook food faster and in less time. It is one of the best kitchen appliances for busy people. It saves time, money, and energy. Here, you will find out the benefits of using an instant pot so that you can make the most of it in your kitchen.
1. Instant Pot Helps You Lose Weight
2. Instant Pot Helps You Stay Healthy
3. Instant Pot Is Easy to Clean
4. Instant Pot Keeps Your Food Safe and Stays Fresh for Longer Periods of Time
5. Instant Pot Can Help You Save Money by Cooking Food at Home
What are the Benefits of Cooking with Lentils?
Lentils are a great source of protein and fiber and can be cooked in many delicious dishes. They are also very affordable, making them a popular choice for budget-conscious consumers.
Lentils have been used since ancient times as food, but they were not widely known until recent decades. In the last few years, the number of people who cook with lentils has grown significantly due to their many benefits.
Benefits include:
– Lentils are low in fat and calories
– They are rich in fiber
– They provide a good source of protein
Instant Pot Lentil Sauce Recipe
You may also like:
Slow Cooker Pasta Salad with Eggplants
Slow Cooker Italian Mushroom Risotto Recipe
Instant Pot Steamed Clams Recipe
Slow Cooker Lentil Stew with Spiced Couscous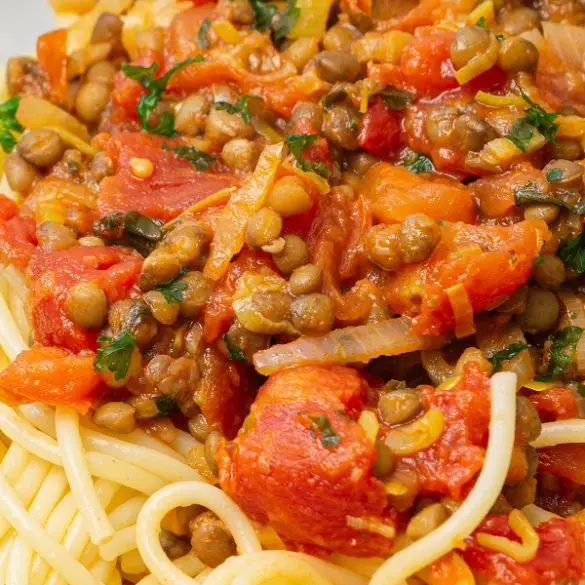 Ingredients
2 tablespoons olive oil

1 large yellow onion, peeled and chopped

1 tablespoon minced garlic

1/2 teaspoon ground all-spice

1/2 teaspoon ground cumin

\1/2 teaspoon ground coriander

1/2 teaspoon salt

1/4 teaspoon red pepper flakes

2 cups (500 ml) vegetable broth

1 cup brown lentils

3 medium tomatoes, chopped

2 tablespoons tomato paste
Instructions
Heat the olive oil in a 6-quart (6 L0 instant pot turned to browning function.
Add chopped onion and cook, stirring often, until softened, for about 4 minutes.
Mix in the garlic, allspice, coriander, cumin, salt, and red pepper flakes. Cook, stirring constantly, until fragrant, for a further 1 minute.
Add the remaining ingredients and stir well.
Close the pot and lock the lid. Set the machine to cook at high pressure. Set the timer to cook for 15 minutes.
Using the natural Release method, bring pressure to normal. Carefully unlock and open the lid.
Stir the sauce well before serving.