Slow cooker Italian mushroom risotto recipe. I tried this new recipe and I loved it! It was easy to make, you didn't need to stand and stir anything. The crockpot made the cooking process much easier. The flavors were so good too!
Tips on How to Save Time in Cooking Your Favorite Risottos
Risottos are a perfect example of a dish that takes time to make. However, with these time-saving tips, you can save up to 30 minutes while cooking your favorite risotto.
Risotto is an Italian dish that is traditionally made with Arborio rice, but you can also use other types of rice if you prefer. To make it easier for you, we have included the ingredients and steps to making this dish in our recipe section.
It's almost impossible to make a perfect risotto without getting your hands dirty in the process. But there are some ways that you can save yourself from doing all the messy work by prepping ahead of time and using shortcuts that will help speed up the cooking process.
10 Ways to Make Delicious Risotto in the Crock Pot
Risotto is a type of Italian rice dish that is traditionally made by stirring raw rice in broth and adding saffron. It can also be made in a pot on the stovetop. With this recipe, you can make risotto in the crockpot.
Risotto is one of the most elegant and delicious dishes to serve at your next dinner party or family gathering. It's easy to make, but it takes time to prepare.
This recipe makes risotto in the crockpot, which means you can have it ready for your guests without all the work!
1) Add chicken broth (or vegetable broth) and white wine to a crockpot
2) Add onions, garlic, and mushrooms
3) Add cremini mushrooms
4) Add Arborio rice and stir together
5) Add warm water, stirring as you go, until the rice is fully cooked, about 45 minutes
6) Once the rice is fully cooked and fluffy, add Parmesan cheese and butter
7) Stir in the Parmesan cheese and butter until they are fully coated
8) Add spinach on top
9) Once everything has been stirred together, cover with a lid
10) Cook on high for 30 minutes
Slow Cooker Italian Mushroom Risotto Recipe
You may also like:
Instant Pot Steamed Clams Recipe
Instant Pot Steamed Salmon Fillets Recipe
Slow Cooker Lentil Stew with Spiced Couscous
Instant Pot Turkey Sausage and Macaroni Casserole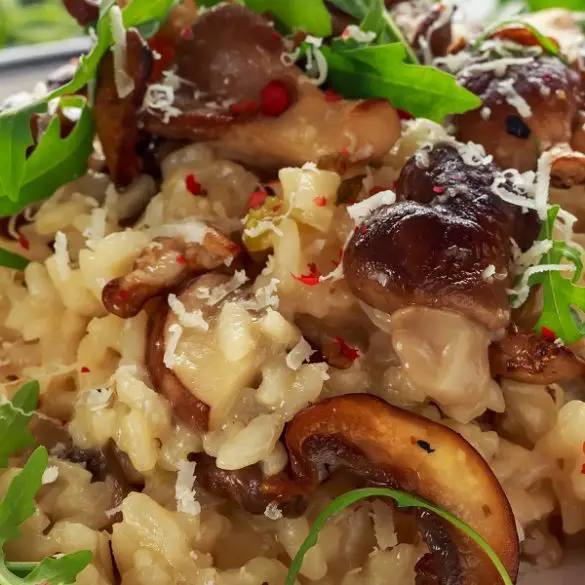 Ingredients
4 tablespoons olive oil

1/2 cup chopped yellow onion

1/2 cup (125 ml) dry white wine

1¼ cups uncooked arborio rice

3¾ cups (930 ml) low-sodium chicken broth

2 teaspoons unsalted butter

1/2 pound sliced mushrooms (use any, such as baby bellas, shiitake, or oyster)

3 tablespoons half-and-half

red pepper flakes

salt and freshly ground black pepper

grated Parmesan cheese
Instructions
Ina large nonstick skillet, heat 3 tablespoons olive oil over medium-high heat.
Add chopped onion and cook, stirring occasionally, until just soft, but not brown, for about 3 minutes.
Pour in 1/4 cup (60 ml) dry white wine and continue cooking and stirring constantly, for a further 1 minute.
Stir in the rice and cook until it begins translucent, for about 2 minutes.
Remove the rice mixture from the skillet and transfer it to a slow cooker. C
over the pot and cook on a high-heat setting for 2-2½ hours. Meanwhile, heat the remaining olive oil and butter in the same skillet. Add mushrooms, and cook, stirring occasionally, for about 4 minutes.
Pour in the remaining 1/4 cup (60 ml) of wine. Cook, stirring constantly for a further 1 minute.
Remove the skillet from the heat and allow the mixture to cool, before placing it in a microwave-safe bowl.
Cover the bowl and refrigerate until the rice will be done. Remove mushrooms from the fridge and microwave them, uncovered, for about 2 minutes, or until heated through.
Turn off the slow cooker and open the lid. Stir in the half-and-half, then season it with salt, black pepper, and red pepper flakes.
Serve hot, topped with heated mushrooms and grated Parmesan cheese.