Instant pot turkey sausage and macaroni casserole. This recipe for a casserole is perfect for those hectic mornings when you don't have time to mess around in the kitchen.
What can I substitute for the turkey sausage?
We can substitute the turkey sausage with a vegan sausage. We can also use tofu, tempeh, or lentils.
3 Reasons Why You Should Be Using a Pressure Cooker if You Care about Healthy Cooking
A pressure cooker is a pot that cooks food under high pressure. It is also called a pressure pan or steam oven. Pressure cookers use the principle of boiling water to create steam, which builds up pressure in the pot and raises the boiling point of water.
This process reduces cooking time by up to 70% and can be used for cooking healthy foods like grains, beans, meat, and vegetables. In this article, we will talk about 3 reasons why you should be using a pressure cooker if you care about healthy cooking:
1) Health benefits of using a pressure cooker – Pressure cookers can help you lose weight because they use less energy than other types of ovens and they don't require constant stirring while they are cooking. They also retain more nutrients in food than other cooking methods.
2) Cooking food in a pressure cooker is quicker than other methods – A pressure cooker provides more moisture and extracts more flavors from food without the need to stir or use water.
3) Pressure cookers can save you money – Pressure cookers are cheaper than other cooking methods, especially an oven or stove smoker, where you have to buy the pots.
Instant Pot Turkey Sausage and Macaroni Casserole
You may also like:
Slow Cooker Lamb Biriani Recipe
Air Fryer Egg-Stuffed Avocado Recipe
Air Fryer Parmesan Potato Wedges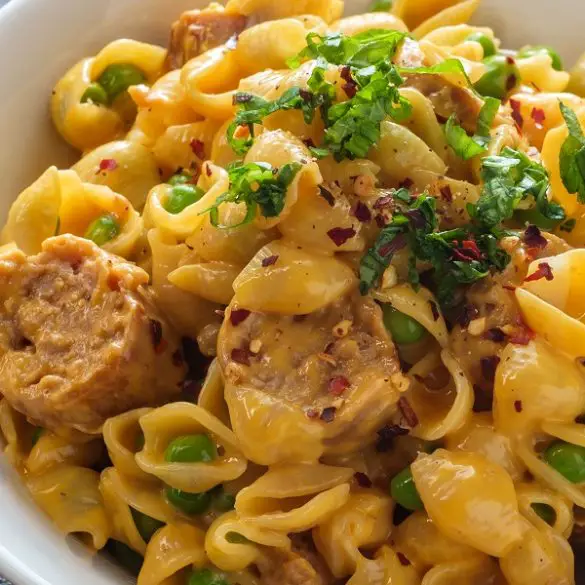 Ingredients
1½ cups (375 ml) milk

1½ cups (375 ml) chicken broth

11½ tablespoons all-purpose flour

1 teaspoon dried sage

2 tablespoons unsalted butter

1 pound (480 g) of turkey sausages, cut into pieces

8 oz (240 g) dried shell pasta

1½ cups shredded Swiss cheese

1 cup frozen peas, thawed

1/4 teaspoon salt

1/4 teaspoon freshly ground black pepper

1 teaspoon red pepper flakes
Instructions
In a large mixing bowl, combine the milk, chicken broth, all-purpose flour, and sage. Whisk until the flour is dissolved.
Melt the butter in a 6-quart (6L) electric instant pot turned to browning function. Add sausage pieces and cook, stirring occasionally, until browned, for about 4 minutes.
Stir in the milk mixture until smooth. Add the macaroni and toss well.
Close the pot and lock the lid. Set the machine to cook at high pressure. Set the timer to cook for 8 minutes.
Using the Quick Release method, bring pressure to normal. Carefully unlock and open the lid.
Stir in the remaining ingredients, then set the lid loosely over the pot and set aside for 5 minutes.
Mix well before serving. Serve hot.