Air fryer chocolate cake recipe. This air fryer chocolate cake recipe is totally divine. The cake is moist and fluffy, and the outside has a light crispy crunch. This dessert recipe is sure to impress your guests on any occasion.
The Benefits of Using an Air Fryer
The benefits of using an air fryer are many. It is more than just a kitchen gadget – it is a lifesaver. It can cook food quickly and evenly, and it can be used to make healthier fried foods. Air frying also has the added benefit of being easy to clean up, which is always a plus.
Air fryers are designed to heat up the air in your cooking pan so that the food you're cooking will be heated from all directions at once, which means that you won't have any cold spots or overcooked edges on your food. This ensures that your food will be cooked evenly and thoroughly every time with no need for stirring or flipping halfway through the cooking process.
The Benefits of Air Frying a Cake
Air frying a cake is an interesting way to make a cake that is moist, fluffy, and delicious. Air frying cakes can save time and energy.
Air frying cakes are not just for sweet desserts. They can also be used for savory dishes like quiche, frittata, or even bacon-wrapped scallops.
Frosting
The frosting is a sweet, creamy topping that is usually made from butter, sugar, and cream cheese. It can be used to decorate cakes or cupcakes.
There are many different frosting recipes that can be made without butter or cream cheese. These recipes include:
Air Fryer Chocolate Cake Recipe
You may also like:
Instant Pot Turkey Sausage and Macaroni Casserole
Slow Cooker Lamb Biriani Recipe
Air Fryer Egg-Stuffed Avocado Recipe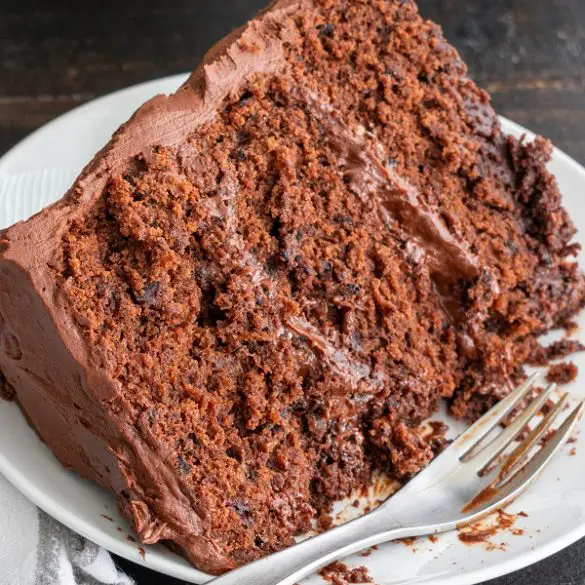 Ingredients
15¼ oz (460 g) Devil's Food Cake Mix

3/4 cup all-purpose flour

1/4 cup Dutch-processed cocoa powder, sifted

3 large eggs, beaten

1 tablespoon canola oil

1¾ cups (430 ml) of water

1 teaspoon vanilla extract

1 cup (250 ml) sour cream

For Frosting:

1 can of chocolate frosting

1 teaspoon vanilla extract

1 cup powdered sugar

2 tablespoons unsalted butter at room temperature
Instructions
Spray with nonstick cooking spray and flour your cake pans. Set aside. In a large mixing bowl, combine all-purpose flour, cocoa powder, eggs, oil, water, and vanilla extract. Mix with a handle on a low-speed mixer for 1 minute. Switch the mixer to a medium speed and mix for 2 more minutes, then turn the mixer off and scrape the sides of the bowl. Turn the mixer on again and mix for30 seconds. Stir in the sour cream and incorporate it into the batter, using a wooden spatula. Divide the batter between your prepared pans. Place the pans in the air fryer. Set the temperature to 320º F (160º C). Bake for 12-15 minutes, or until a toothpick inserted into the cake comes out clean. Remove the pans from the fryer, set them aside, and allow them to cool. Meanwhile, prepare the frosting: In a medium mixing bowl, combine chocolate frosting, vanilla extract, powder sugar, and butter. Using the handle mixer, mix until desired consistency. To Frost the Cake:
Place the bottom piece of cake on your cake stand and add ¼ cup (60 ml) of frosting onto the top. Add frosting to the top and then place the top of your cake on there, then add another ¼ cup of frosting onto the top for a final layer.
You can put a thin layer of frosting or crumb coat on the cake after it has cooled by placing it in the refrigerator for about 30 minutes to an hour.
Remove chocolate cake from the fridge and finish frosting the top and sides of the cake.
To 'crumb coat' is to cover a cake with a thin layer of frosting (usually whipped) before you start icing it so that any crumbs fall on top. If you don't want a crumb coat, just continue to ice your cake after icing.