Slow cooker lentil stew with spicy couscous. This wholesome vegan slow cooker lentil stew with spicy couscous is a one-pot meal. It takes just minutes to put together, and it's so delicious that you won't believe it's healthy.
What are some of the benefits of slow cooking versus other cooking methods?
Slow cooking is a great alternative to other cooking methods because it is cheaper, healthier, and more environmentally friendly.
When you use slow cooking, you don't need to add as much oil or butter. This is because the food slowly releases its own liquid so that it can cook in its own juices. This makes for a more flavorful dish. Slow cooking also cooks the food at a lower temperature than other methods which means that the food doesn't dry out as easily and retains more of its nutrients.
Do lentils pose any health risks?
Lentils are healthy and nutritious food. They are rich in protein, fiber, and iron. Lentils also contain folate and magnesium.
Lentils do not pose any health risks if they are cooked properly. However, there is a risk of food poisoning if the lentils are not cooked properly or if the water is contaminated with bacteria or viruses.
What are the benefits of adding spices to this dish?
Adding spices to a dish can give it a lot of flavors. Spices are also used for medicinal purposes.
– Spices can give food a lot of flavors and make it taste better.
– Spices are typically used for medicinal purposes, such as adding ginger to tea or cooking with turmeric.
Slow Cooker Lentil Stew with Spiced Couscous
You may also like:
Air Fryer Chocolate Cake Recipe
Instant Pot Turkey Sausage and Macaroni Casserole
Slow Cooker Lamb Biriani Recipe
Air Fryer Egg-Stuffed Avocado Recipe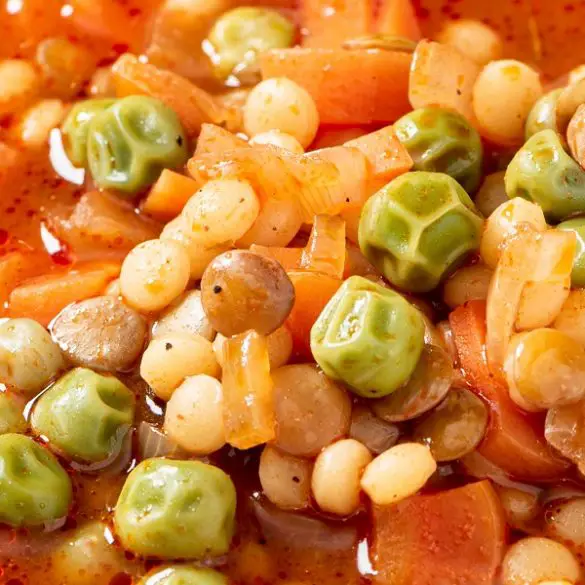 Ingredients
1 can (14½ oz (435 ml) diced tomatoes, undrained

3 cups (750 ml) low-sodium vegetable broth

2 cups dried lentils

1/2 cup fresh peas

1 cup chopped yellow onion

1 cup chopped carrots

1 teaspoon minced garlic

1 teaspoon dried oregano leaves

1/2 teaspoon ground turmeric

salt and freshly ground black pepper, to taste

Spiced Couscous (see recipe below)
Instructions
To Make the Spiced Couscous (makesv3 cups):
Ingredients:
1 clove of garlic, peeled and minced
1/4 teaspoon crushed red pepper
1/2 teaspoon ground turmeric
1 teaspoon olive oil
1²⁄³ cups low-sodium vegetable broth
1 cup couscous
Method:
Heat the olive oil in a medium saucepan over medium-high heat. Add the garlic, red pepper, and turmeric. saute, stirring, for about 3 minutes.
Stir in vegetable broth. Increase heat to high and bring the mixture to a boil.
Stir in couscous. Remove from the heat and allow it to stand, covered, for 5 minutes, or until vegetable broth is absorbed.
Lentil Stew with Spiced Couscous:
In a 6-quart (6 l0 slow cooker, combine all ingredients, except peas, seasoning, and couscous.
Cover the pot and cook on a low-heat setting for 6-8 hours, adding the please during the last 30 minutes to cook.
Turn off the cooker and open the lid. Season the stew with salt and black pepper, to taste.
Ladle it into soup bowls.Serve with spiced couscous.