Slow cooker lamb biriani recipe. This is a lamb biryani recipe with a slightly different twist. Instead of being cooked on the stove for hours, it's made in the crockpot. Tender pieces of lamb are mixed with rice and Indian spices.
What are some of the benefits of using a slow cooker?
The benefits of using a slow cooker are:
-Saves time by cooking food for a longer period of time.
It-Easy to make because it does not require much supervision.
-No need for added fats because the meat is self-basting.
-Requires minimal cleanup and is easy to store.
What is Biriani?
Biriani is a dish originating in the Indian subcontinent. It is made with rice, and usually includes meat, vegetables, and spices. Biriani can be served as one large dish or in individual servings. The rice is typically cooked with saffron and other spices, while the meat may be cooked separately with onion and garlic before being mixed in with the rice.
Why are there so many different variations of lamb biriani?
Lamb biriani is a dish that has its origins in the Indian subcontinent. The dish is composed of rich, spicy, and saucy meat curry with rice. The dish is known by various names in different parts of the world. The main reason for all these variations is the difference in spices used to cook it. Each region or country has its own style of cooking lamb biriani and each one tastes different because of the spices used.
How to Make the Slow Cooker Lamb Biriani
This guide will provide you with an easy-to-follow recipe on how to make a slow cooker lamb biryani.
The use of a slow cooker makes this dish easier than ever to cook. You can also prepare the rice in advance and keep it refrigerated until your guests arrive.
This dish is perfect for any occasion and can be made in a variety of ways. The flavor of the lamb is enhanced by the spices and the yogurt, making it an ideal option for all those who are looking for a new dish to try out.
Slow Cooker Lamb Biriani Recipe
You may also like:
Air Fryer Egg-Stuffed Avocado Recipe
Slow Cooker Country Lentil Soup Recipe
Slow Cooker White Bean Soup Provencal
Instant Pot Minestrone Soup Recipe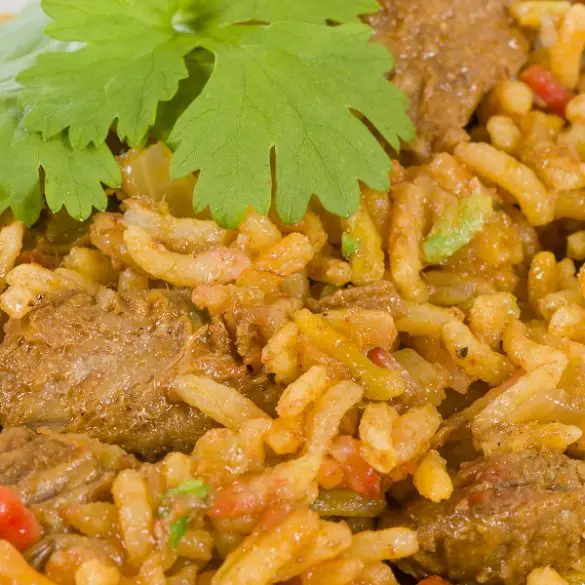 Ingredients
1 pound (480 g) boneless lean lamb leg, cut into cubes

1 cup (250 ml) reduced-sodium fat-free chicken broth

2 cups chopped yellow onion

1 clove of garlic, peeled and minced

1 red pepper, seeded and chopped

1 teaspoon ground coriander

1 teaspoon ground ginger

1/2 teaspoon chili powder

1/4 teaspoon ground cinnamon

1/4 teaspoon ground cloves

3/4 cup low-fat plain yogurt

1 tablespoon cornstarch

salt and freshly ground black pepper, to taste

3 cups cooked basmati or jasmine rice, warm
Instructions
In a 6-quart (6 L) slow cooker, combine all ingredients, except yogurt, cornstarch, rice, and seasoning.
Mix well. Cover the pot and cook on a low-heat setting for 6-8 hours.
Turn off the cooker and open the lid. Stir in combined yogurt and cornstarch, stirring for 2-3 minutes.
Season to taste with salt and black pepper.
Serve over the rice.