Instant pot Cajun rice and sausages. Enjoy a delicious and easy-to-make meal with Cajun Rice and Sausages! Perfectly spiced, this one-pot dish is sure to become a family favorite. Ready in under an hour, it's the perfect weeknight meal you can't resist!
What are the Benefits of Cooking with an Instant Pot?
Cooking with an Instant Pot has become increasingly popular in recent years due to its convenience and versatility. It is a great way to quickly and safely prepare meals without sacrificing flavor or nutrition. In addition, there are many health benefits associated with pressure cooking, such as improved digestion and reduced risk of certain diseases.
.What are the benefits of cooking with an Instant Pot? According to a study published in the Journal of Agricultural and Food Chemistry, pressure cooking can produce healthy and nutritional meals. Another study that was published by Cornell University found that pressure cooking preserves nutrients by killing off bacteria, yeasts, molds, and fungi.
Plus, when cooked at high temperatures under pressure in a sealed pot or jar using water or sodium hydroxide as the only liquid used to cook food according to USDA guidelines, these high-pressure environments can kill pathogens without producing potentially harmful chemicals. Pressure cooking also helps preserve flavors due to increased evaporation. Pressure cooking is a low-cost and effective way to cook healthy foods, which is also environmentally friendly.
What is Cajun Rice and Sausages and Why You Should Be Cooking It in an Instant Pot
Cajun rice and sausages is a classic one-pot meal that is both easy to make and incredibly flavorful. It's a great option for busy weeknights when you don't have much time to cook, or if you're looking for an easy dinner idea that everyone will love. Cooking it in an Instant Pot makes the whole process even easier, as it cooks the rice and sausages together in one pot with minimal effort. Not only is this dish delicious, but it also offers plenty of health benefits too – making it a great choice for those looking to get more vegetables into their diet.
Instant Pot Cajun Rice and Sausages
You may also like:
Slow Cooker Zoodles in Meat Sauce
Instant Pot Shrimp-Stuffed Potatoes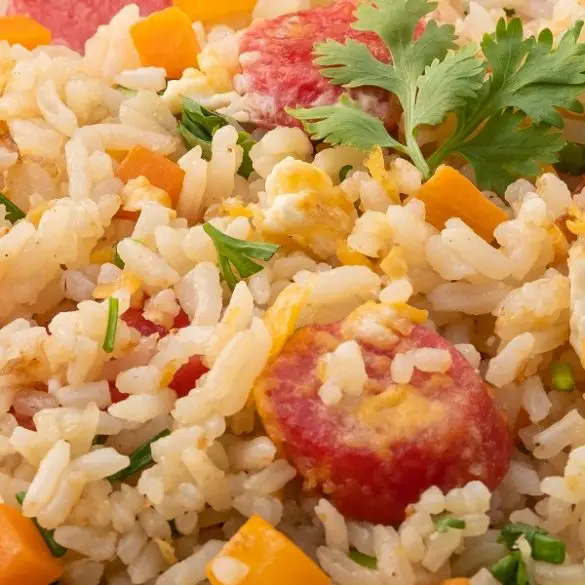 Ingredients
2 carrots, peeled and cubed

2 celery, diced

half of the yellow onion, peeled and diced

6 Andouille sausages (see notes below)

1 cup basmati rice, rinsed

1 cup (250 ml) chicken stock

1 tablespoon Cajun seasoning

1/4 teaspoon sea salt
Instructions
Combine all ingredients in an electric instant pot.
Stir well, making sure no rice is stuck to the side of the cooker.
Close the pot and lock the lid.
Set the machine to cook to high pressure. Set the timer to cook for 3 minutes.
Using the Natural Release method, bring pressure to normal. Carefully unlock and open the lid.
Using a fork, fluff cooked rice.
Serve hot.
Notes
This recipe requires pre-cooked smoked sausage. We urge you not to substitute the pre-cooked smoked sausage for uncooked sausage in this recipe, as it may alter the flavor and texture of your dish.